Armored police with dogs & helicopter reported quelling 'riots' in London's Barking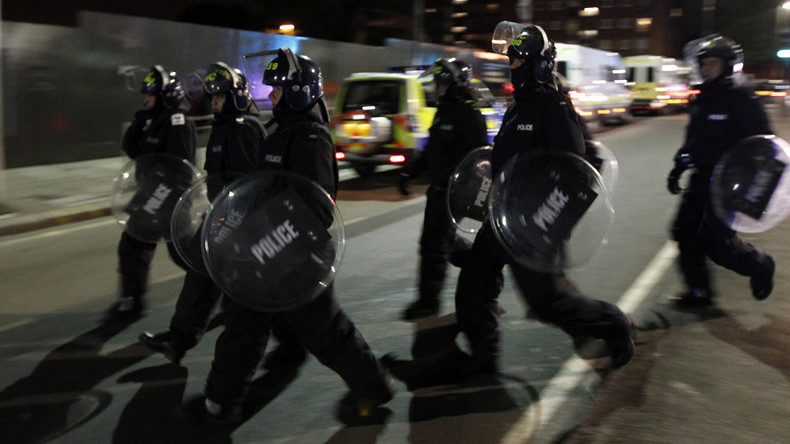 Scores of riot police with barking dogs, loud smashing sounds, and a helicopter hovering overhead were described by witnesses observing mayhem in London's borough of Barking early on Sunday. Police say they are dealing with "large scale public disorder."
"Havering & Redbridge MSC on scene in @MPSBarkDag assisting with large scale public order incident," London's Metropolitan Special Constabulary has tweeted, referring to the borough of Barking & Dagenham.
Witnesses took to social media to describe the chaotic street scenes and terrific noises that they heard. Shulem Stern tweeted that he thought there were "thousands" of rioters, some of whom were throwing bricks at police, while Lynette Jones's tweets said there was a "huge riot of ravers" with "one hell of a noise."
Some described hearing "smashing sounds" and firecrackers going off, while others suggested there were gunshots.
Police were seen moving towards Bastable Avenue, as the rioting crowd reportedly continued to move through the streets. Hundreds of ravers, some of which were teenagers, were seen running down the street. Some allegedly threw bricks at police, before being "dispersed in all directions."
The noise gradually subsided, and the crowds of youngsters reportedly walked along silently for some time as the police helicopter followed them with its spotlights.
The "helicopters galore" was especially irritating to dozens of residents of Barking, as the aircraft hovered over the borough for some two hours. Many took to social media to express anger over the noise that was keeping them awake.