'BeLEAVE in Britain!' Rupert Murdoch's Sun backs Brexit as 'Leave' takes poll lead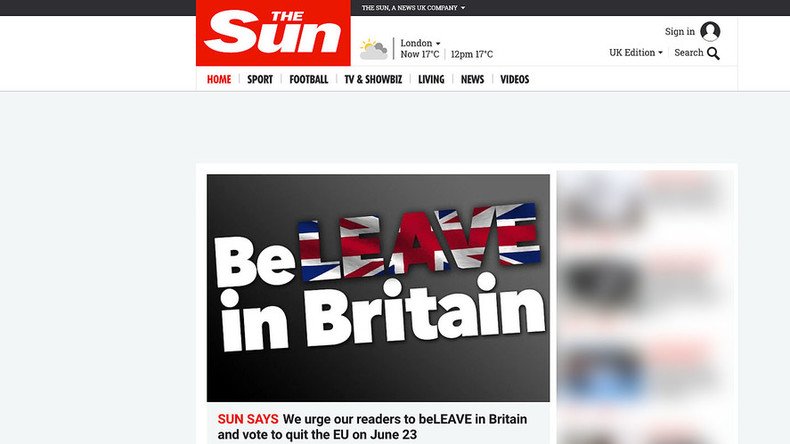 The Sun newspaper is urging its readers to vote 'Leave' and free Britain from "dictatorial Brussels," delivering a major boost to Brexiteers just nine days before the EU referendum.
Media mogul Rupert Murdoch's flagship tabloid is running the headline 'BeLEAVE in Britain' with a front-page editorial saying a divorce will "make Britain even greater."
Britain's biggest selling daily newspaper says: "Throughout our 43-year membership of the European Union it has proved increasingly greedy, wasteful, bullying and breathtakingly incompetent in a crisis."
The Sun has not got an election result wrong since the 1970s.
The newspaper, which is seen to have been openly Euroskeptic for the last 40 years, declares remaining in the EU would be "worse for immigration, worse for jobs, worse for wages and worse for our way of life."
The editorial comes amid growing concern among 'Remain' campaigners that momentum is building for the Brexit campaign, with recent polls putting a 'Leave' vote ahead.
A YouGov poll for the Times (also Murdoch owned) put Brexit at 46 percent and Remain at 39 percent, while an ORB poll for the Daily Telegraph put Brexit on 49 percent and Remain on 48 percent.
Neither of the right-leaning broadsheets has directly urged readers to reject staying in the EU, unlike the Sun, which is telling readers to "correct a huge and historic mistake."
Its editorial says: "If we stay, Britain will be engulfed in a few short years by this relentlessly expanding German dominated federal state. For all [Prime Minister] David Cameron's witless assurances, our powers and values WILL be further eroded.
"Greece is bankrupt. Italy is in danger of going the same way, with even more disastrous consequences. In Spain, 45 percent of those under 25 are out of work.
"The Remain campaign, made up of the corporate establishment, arrogant europhiles and foreign banks, have set out to terrify us all about life outside the EU.
"Their 'Project Fear' strategy predicts mass unemployment, soaring interest rates and inflation, plummeting house prices, even world war.
"Nonsense! Years ago the same politicians and economists issued apocalyptic predictions about our fate if we didn't join the euro. Thank God we stopped that."
The Sun haven't got an election result wrong since the 70's. If you don't want Brexit, you really are going to have to get out and vote.

— Emma Kennedy (@EmmaKennedy) June 14, 2016
It's expected other national titles, such as the Daily Mail, the Daily Express and the Daily Telegraph, will follow the Sun's lead in the coming days, according to the Financial Times.
The newspaper says the Guardian and the Mirror are likely to come out supporting 'Bremain.'
You can share this story on social media: