SAS, MI6 & 350 British paratroopers primed for Euro 2016 terror alert - reports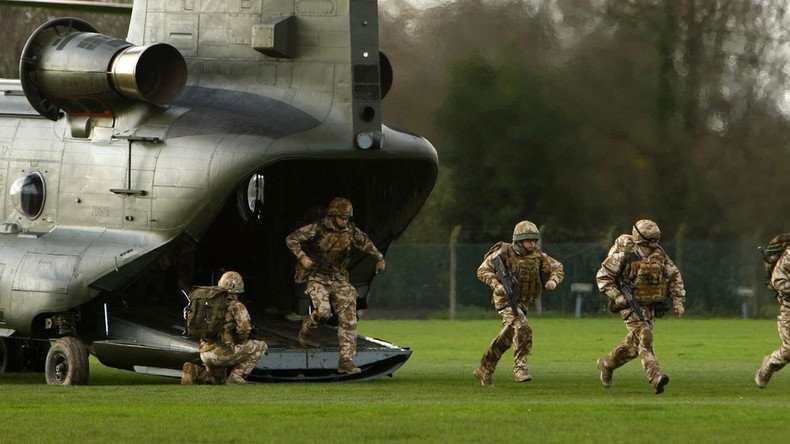 SAS soldiers are currently embedded alongside spies from MI6 in the Euro 2016 security apparatus, while 350 British paratroopers are primed to deploy in the event of a terror attack.
They are reportedly there as authorities fear jihadist sleeper cells from the UK have slipped into France to carry out an attack.
According to sources quoted by the Express newspaper on Sunday, there are three SAS captains and a major, as well as MI6 operatives, working with French security forces to monitor the situation.
Personnel from the Joint Terrorist Analysis Cell and GCHQ are also said to be working with the group.
An anonymous security source told the paper: "Our people are part of a liaison team to provide advice and tactical guidance as well as resources if required.
"The problem is the number of hardline Islamic community in the UK has grown and we simply cannot monitor them all," the source added.
The news comes as the Ministry of Defence (MoD) announced up to 350 paratroopers are on standby to intervene in France in the event of a terror incident.
The troops have been taking part in a mass NATO exercise. A source reported they were stationed with US and other troops.
The Express says the contingency force includes up to 2,000 troops and 35 helicopters are ready to deploy if events take a turn for the worse during the tournament.
In April, it was reported that British Special Forces are training on board an Osprey heliplane, in order to respond rapidly to terror attacks on UK soil.
The unusual-looking Osprey V22 aircraft – which is effectively half plane, half helicopter – is being used by the SAS at a training site near Hereford, according to sources quoted by the Daily Mail.
British pilots are training to fly the Osprey, touted as being capable of delivering 24 Special Forces soldier from Hereford to London within thirty minutes in the event of a terror attack.
London dwellers had a shock in late May when two of the bizarre-looking aircraft were seen flying around the center of the capital.
You can share this story on social media: