Riding bareback! Nude cyclists to flock to central London for anti-car protest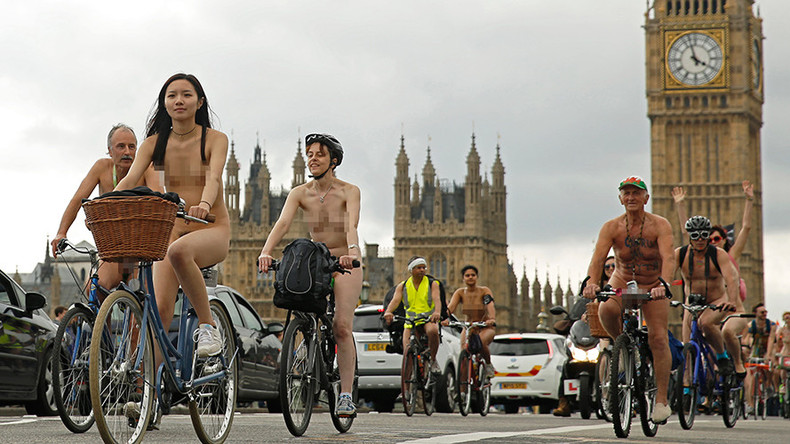 London's cyclists will lose the lycra and ride in the buff this weekend for the World Naked Bike Ride.
The annual ride, which takes place in cities around the globe, is organized in protest against the impact of fossil fuels on climate change and to highlight cyclists' vulnerability on the road.
Cyclists will ride naked past major London landmarks, including Big Ben and 10 Downing Street, home of the prime minister.
This year's event will take place on June 11, beginning at six different starting points around the city between noon and 14:30 BST.
Starting locations include North Carriage Drive in Hyde Park, Cumberland Green in Regent's Park, Granary Square near King's Cross, Grant Road near Clapham Junction, Tower Hill and Knights Hill near West Norwood.
Bare-bottomed riders will cycle 9 miles through the capital, before finishing up at Hyde Park Corner at 17:30 BST.
With warm weather predicted, users of the capital's public bike hire scheme 'Santander Cycles' may want to wipe down their saddle before joining the protest.
Many cyclists choose to wear elaborate body paint during the ride, while others go au naturel.
Mike Ambler, who organizes the Welsh sister event, told the Mirror: "There are lots of reasons behind it but the main one is that we have a poor infrastructure and the roads are quite dangerous for cyclists."
The event's website advises riders not to "undress until just before the protest moves off, as this will undermine our positive relationship with the authorities.
"There is no law against nudity in Britain, but please don't exercise your right to nudity in London before the ride, as it will impact on our ability to make arrangements with police."
Cyclists are also advised to take clothes with them on their ride.
"You don't want to be the person who lost their clothes on the ride or the one whose friends decided the ride was taking too long, they had better things to do and went home with your clothes," the website states.