Senior Tory defects from pro-Brexit campaign over 'untrue' NHS claims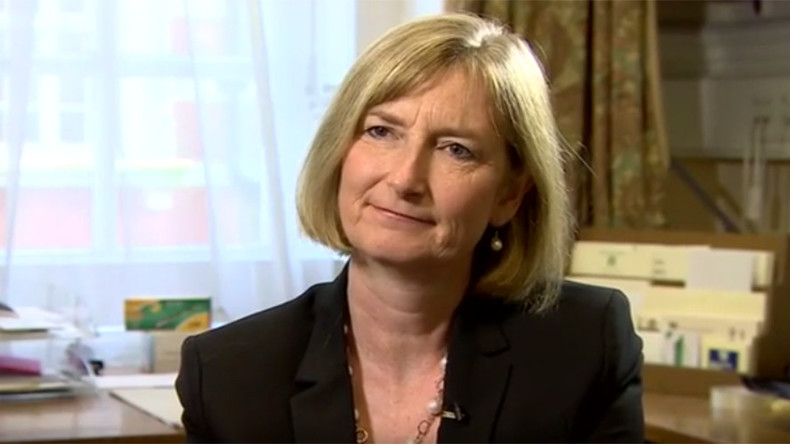 Tory MP Dr. Sarah Wollaston has defected from Vote Leave just weeks before the Brexit referendum, accusing the campaign of engaging in "post-truth politics," specifically citing untruths about the future of the National Health Service (NHS).
Four months after pledging her support to leaving the 28-member bloc, the Totnes MP declared on Wednesday she is switching sides. The former GP denounced Brexiteers' claim that leaving the EU would free up an additional £350 million (US$506 million) in funding for the state health system, saying it "simply isn't true."
The figure, branded "misleading" by the UK Statistics Authority back in April, is emblazoned on Vote Leave's campaign bus, which has transported prominent Brexit campaigners such as Boris Johnson.

"For someone like me who has long campaigned for open and honest data in public life I could not have set foot on a battle bus that has at the heart of its campaign a figure that I know to be untrue," Wollaston told the BBC.

"If you're in a position where you can't hand out a Vote Leave leaflet, you can't be campaigning for that organization."
Wollaston, who chairs the influential Commons House Select Committee argued that withdrawing would be a "Brexit penalty" on the NHS because withdrawal from the EU would damage the economy.
"The consensus now is there would be a huge economic shock if we voted to leave," she said.
"Undoubtedly, the thing that's most going to influence the financial health of the NHS is the background economy."
Defending her decision to jump ship, Wollaston said, "Any politician who is not prepared to have second thoughts should not be doing the job."
"Sarah's decision is bizarre but we wish her well. Given her views on the EU in the past it is disappointing to suddenly see her repeating lines straight from the Remain campaign hymn sheet," a Vote Leave spokesman said in response to the news.
Wollaston was immediately subjected to vitriol from Leave supporters on social media, a number of whom suggested she was "a plant" and had intended to switch sides from the very beginning of the campaign to boost support for Remain.
The prime minister meanwhile praised the move as a "powerful intervention."