Weeks before Chilcot, Tony Blair scolds Jeremy Corbyn for not backing UK bombing of Syria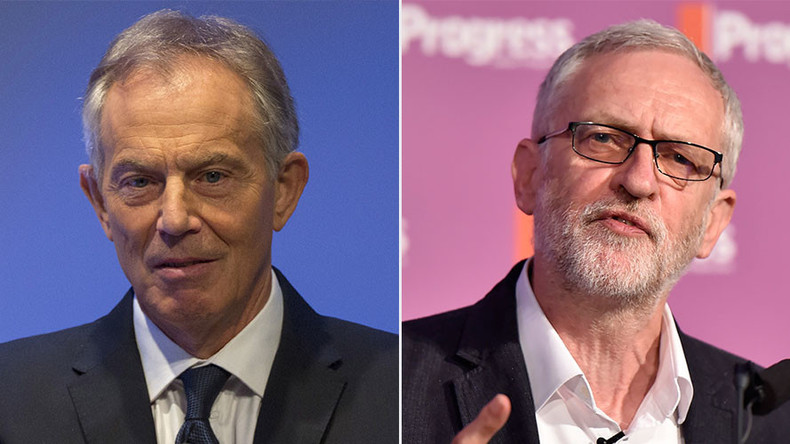 Tony Blair has launched a withering attack on Labour Party leader Jeremy Corbyn, accusing him of "standing by" as Syria is "beaten and starved into submission." Blair's comments come weeks before his own actions in Iraq face judgment in the Chilcot report.
Blair accused Corbyn, a lifelong pacifist, of representing the "politics of protest" rather than "the politics of power," in an interview with Bloomberg Television on Wednesday.
Read more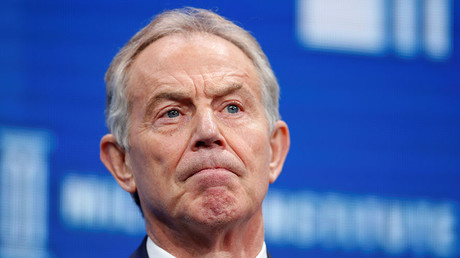 Corbyn, who chaired the Stop the War Campaign (StWC) and serves as president of the Campaign for Nuclear Disarmament (CND), came into conflict with senior MPs in his own party last December after he spoke out against extending British airstrikes on Islamic State (IS, formerly ISIS/ISIL) from Iraq into Syria.
The Labour leader has said that if the long-delayed Chilcot Inquiry, to be published on July 6, finds Blair legally responsible for failures in Iraq, the ex-PM should be tried for war crimes.
"I'm accused of being a war criminal for removing Saddam Hussein—who by the way was a war criminal—and yet Jeremy is seen as a progressive icon as we stand by and watch the people of Syria barrel-bombed, beaten and starved into submission and do nothing," Blair said.
Disparaging Corbyn's abilities as a leader, Blair said: "There's a guy whose face is on the placard. That's me: Hate that guy.
"You're the person in power taking difficult decisions. Jeremy is the guy with the placard, he's the guy holding it. One's the politics of power and the other's the politics of protest."
A spokesperson for Corbyn dismissed the remarks and reiterated that the Labour leader has no plans to share a platform with Blair in support of the EU referendum Remain campaign.
"Jeremy Corbyn is leading the Opposition and building support against the Conservative government. What Tony Blair says is a matter for him. We are quite clear about our position in Syria and how you achieve peace."
Wednesday's criticism is just the latest in a series of attacks by Blair against the leftist Labour leader. Late last month, Blair said a Corbyn-led government would be a "very dangerous experiment."