UK pushes for UN arms embargo on Libya… after years of pouring in weapons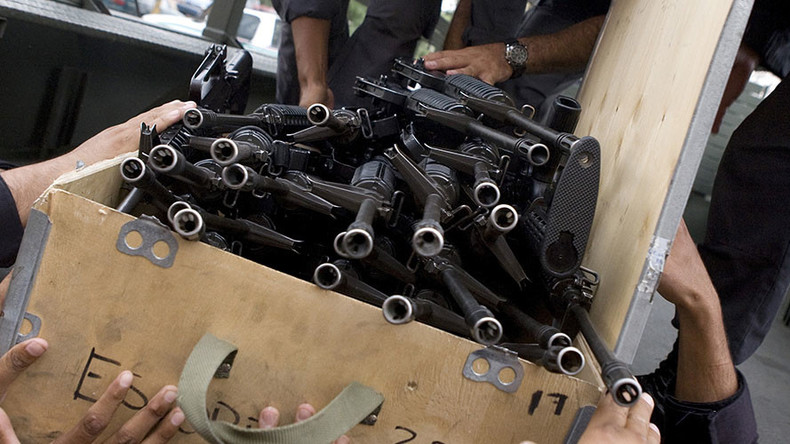 Despite sending weapons into Libya before and after the disastrous 2011 NATO intervention, Britain is now pursuing a UN arms embargo which would allow EU warships to seize arms entering the war-torn state.
The circulated draft, which comes as local forces close in around jihadist fighters in Sirte, the former stronghold of Colonel Muammar Gaddafi, is aimed at heading off a UN attempt to dissolve an existing arms ban.
The UK appears to fear arms flowing into the country could find their way into the hands of groups like the Libyan wing of Islamic State (IS, formerly ISIS/ISIL).
UK sources said they also fear the new national unity government, led by Fayez al-Sarraj, has not yet consolidated a properly functioning chain of command in the country, which could lead to complications.
Al-Sarraj himself called for the ban to be lifted, telling the Arab League in May: "It doesn't make sense that the international community supports our war against terrorism, and forbids us from arming ourselves."
In March 2015 the annual report by the Committees on Arms Export Controls (CAEC) said the British government granted 28 states – including Libya – a total of 3,298 export licenses, valued at £5.2 billion (US$7.5 billion).
Campaign Against Arms Trade (CAAT) also reports that right up to the US-led intervention to remove Gaddafi the UK was selling military equipment to the regime.
CAAT suggests British-supplied armoured police vehicles may have been used in Gaddafi's attempts to crush the Arab Spring uprising.
The group pointed out at the time: "An October 2011 Amnesty International report stated that the British company NMS International Group Ltd manufactures armoured crowd control vehicles that look identical to the ones seen patrolling Libyan streets in February 2011."