Bums on seats: London's first 'naked restaurant' open for business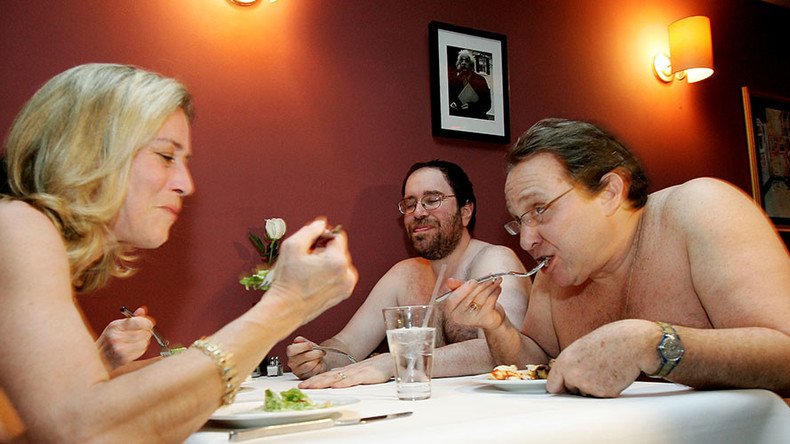 London's first nudist restaurant will raise more than just eyebrows when it opens its doors this Saturday, promising customers a natural, candlelit ambience and the experience of "ultimate freedom."
Bunyadi, casting off its frock in South London this week, will operate without electricity or gas, and will serve food on Flintstone-esque handmade clay plates with edible cutlery.
The theme of the restaurant is, unsurprisingly, nakedness and purity. As such, customers will be offered a choice of vegan or non-vegan dishes, which they can wash down with organic, preservative-free wine.
If the idea of stripping off for dinner doesn't appeal, the restaurant's interior uses natural bamboo partitions between dining groups to create at least the illusion of privacy.
As London's latest pop-up restaurant, Bunyadi will add a novel perk to the capital's already well-endowed gastronomic scene.
While the edible cutlery and wood grill may draw some curious custom, the biggest novelty by far will be all the bare flesh.
Restaurant founder Seb Lyall said test groups responded well to the experience.
"They felt like it was more of a social experiment than a restaurant.
"When they were in that dining area, they weren't bothered about the physical aspects of other people, it just became normal, it was just whatever."
On arriving at the restaurant, guests are taken to a private room where they can change into a gown, which they can wear or remove during the meal.
Cell phones are banned from Bunyadi, something which Lyall said "probably make you feel more naked anything else."
Out of practicality, waiting staff wear conveniently placed fig leaves to cover their private parts. Nobody wants that dangling around their dinner.
"For logistical reasons, our waiting staff will be covering their bits and bobs," said Lyall.
"If you're sitting and someone is serving you, the height of your face and certain parts of their bodies is kind of the same."
For Lyall, the purpose of the restaurant is to remove the sexualized image of the human body.
"Anybody there doesn't come to fantasize, they come to remove that barrier that exists in everyone's mind ... you don't look at their bodies, you look at their faces," he said.
Bunyadi has a capacity of 42 and a waiting list of 40,000. The five-course menu costs £69 and includes dishes such as goji berry and coriander steak tartare and stuffed courgette flowers with cauliflower couscous.
You can share this story on social media: