Women face 'mass sex attacks' by migrants if no Brexit - Farage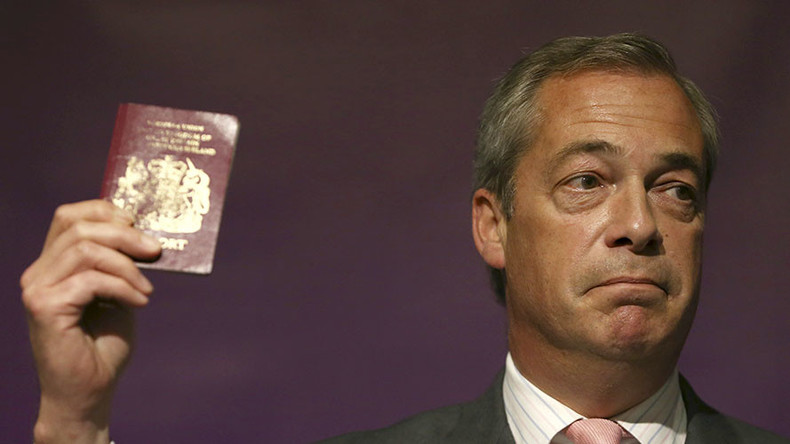 UKIP leader Nigel Farage said women could be at risk of "mass sex attacks" by gangs of migrants due to "big cultural issues," should Britain choose to remain in the EU.
Farage, who is no stranger to controversial comments such as criticizing foreign HIV patients for allegedly costing the NHS £25,000 a year, said the failure to control migration from Europe and North Africa put the safety of women in danger, according to a report by the Sunday Telegraph.
In a scathing attack against David Cameron, Farage called the prime minister "Dishonest Dave," and accused him of lying for popularity and to keep Britain in the 28-member EU bloc.
UKIP and the far right have been accused of fearmongering over mass migration in order to boost the "Leave" campaign.
"The nuclear bomb this time would be about Cologne," he told the Telegraph, adding that the "cultural differences" between migrants and Brits would put women at risk after groups of migrant men allegedly sexually assaulted hundreds of women during New Year's celebrations in Germany.
When asked if the same attack could happen in Britain, Farage said: "There are some very big cultural issues. It depends on if they get EU passports. It depends if we vote for Brexit or not. It is an issue."
The UKIP leader also said "migrant-related crime" has risen and that "41 percent of crimes last year were committed by people who don't have British passports."
Though Europol warned of 5,000 extremists potentially returning to Europe from training camps following the Paris attacks, none of the terrorists involved in the 2015 attacks were identified as Syrian refugees.
With the EU referendum due to take place in 17 days, Farage widely believes his anti-immigration campaign will lead to a victory for the Leave campaign, the Telegraph reports.
READ MORE: What's to become of Nigel Farage? UKIP leader ponders life beyond Brexit vote
Other MPs including leading Brexit supporter Michael Gove were quick to distance themselves from Farage's comments within hours.
"He's made those remarks and I haven't made remarks like that and I won't make remarks like that," Gove said, according to the Mirror.
Campaigning to remain in the EU, Labour deputy leader Tom Watson called the comments "lowest common denominator politics," adding that he hoped the UKIP leader could "find it in himself to be a little bit more dignified."
Labour MP David Lammy called the "inflammatory comments" from Farage "dog whistle politics."
You can share this story on social media: