Anti-Trump protesters to greet White House hopeful on Scotland visit day before Brexit vote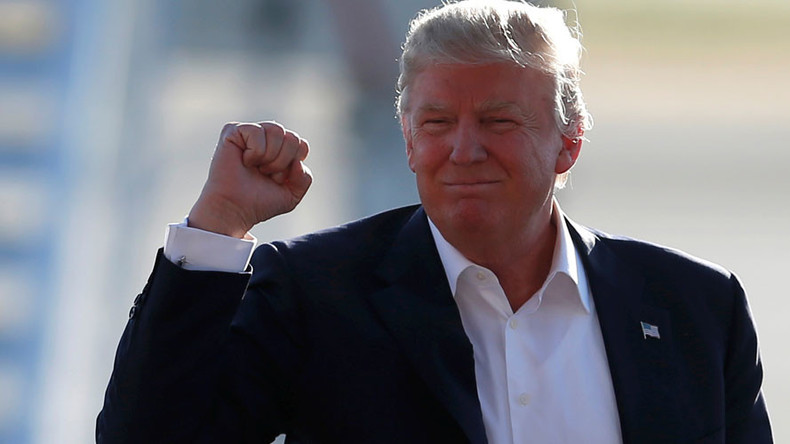 Hundreds of protesters are planning to greet US presidential hopeful Donald Trump when he visits the UK this month – the day before Britons go to the polls to decide whether to stay in the EU.
The billionaire property tycoon was due to appear at the relaunch of his Turnberry hotel golf course in Ayrshire, Scotland, on June 24, the day after the referendum is held. He claims to have invested £200 million ($290 million) in the resort.
It now appears he will arrive on June 22 – the day before the vote – and will move on to his golf resort in Doonbeg in Ireland by the time polls close on June 23.
On June 22- I will be going to Scotland to celebrate the opening of the newly renovated @TrumpTurnberry Resort, the worlds best.

— Donald J. Trump (@realDonaldTrump) June 3, 2016
After @TrumpScotland, I will visit @TrumpDoonbeg in Ireland, the magnificent resort fronting on the Atlantic Ocean.

— Donald J. Trump (@realDonaldTrump) June 3, 2016
Then, on June 25th- back to the USA to MAKE AMERICA GREAT AGAIN!

— Donald J. Trump (@realDonaldTrump) June 3, 2016
Trump's visit raises the prospect the pro-Brexit presidential hopeful will attempt to lend political weight to the Leave campaign, the Guardian reports.
Since beginning his campaign to become the Republican US presidential candidate, Trump has drawn condemnation from the British, Scottish and Irish governments. It's not known whether he hopes to meet any UK political leaders.
Last month, Prime Minister David Cameron and Trump were engaged in a war of words. The PM condemned the tycoon's pledge last December to ban Muslims entering the US as "divisive, stupid and wrong," and Trump responded by saying he might not have a "very good relationship" with Cameron.
Cameron has since said he would be willing to meet US presidential candidates who visit the UK during their campaigns.
"The special relationship is bigger than the individuals involved. I'm sure that we would find a way," Cameron told ITV.
A Number 10 source said there had been "no formal contact" about a possible meeting between Trump and Cameron, who will have a packed diary in the days before and after the EU referendum.
A Scottish government spokesperson told the International Business Times that First Minister Nicola Sturgeon had no plans to meet with Trump during his visit.
In December, she dropped him as a business ambassador for Scotland after his controversial comments on banning Muslims from the US.
Irish Prime Minister Enda Kenny has branded Trump's campaign statements "racist and dangerous."
Protests planned against Trump's visit
Read more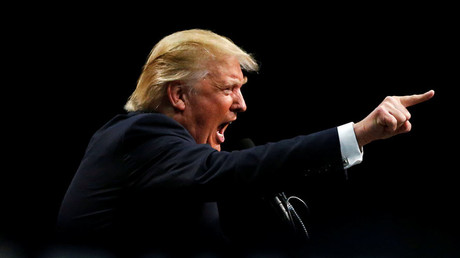 Trump's visit is likely to be dampened by a series of protests over his controversial comments relating to Muslims entering the US and women needing to be punished for having abortions.
Several campaign groups, including Stand up to Racism, are calling on their supports to protest at Trump's Turnberry golf course in Ayrshire on the day of its opening ceremony.
"[Trump's] brand of bigotry is not welcome in Scotland," the anti-racism group wrote on its Facebook page.
"As well as calling on a blanket ban on Muslims entering the US, Trump has a long history of racist outbursts.
"He has said 'laziness is a trait in blacks,' described Mexican immigrants as 'criminals' and 'rapists,' and condoned the beating of a Black Lives Matter activists at one of his rallies."
Efforts are also being made to bring "the broadest possible mobilisation against Trump" to "reflect the range of issues his possible presidency would bring to the fore" by another group, Scotland against Trump.
Protest coordinator, Jonathan Shafi, told the Herald in Scotland: "There will be a protest. The possibility of a Trump presidency is important for the world, not just America.
"Everywhere he goes he should be protested and these demonstrations should feature a broad coalition of everyone who is concerned about what a Trump presidency might mean - climate change activists, those interested in human rights, trade unionists and anti-racism campaigners, to name just a few."
In Scotland, opinion is sharply divided over Trump's investments. He caused outrage in 2014 after comparing a wind farm development near one of his golf courses in Aberdeen to the 1988 Lockerbie terror bombing, the International Business Times reports.