Jury sees police taser 'mentally ill' Islamic extremist who slashed London commuter's throat (VIDEO)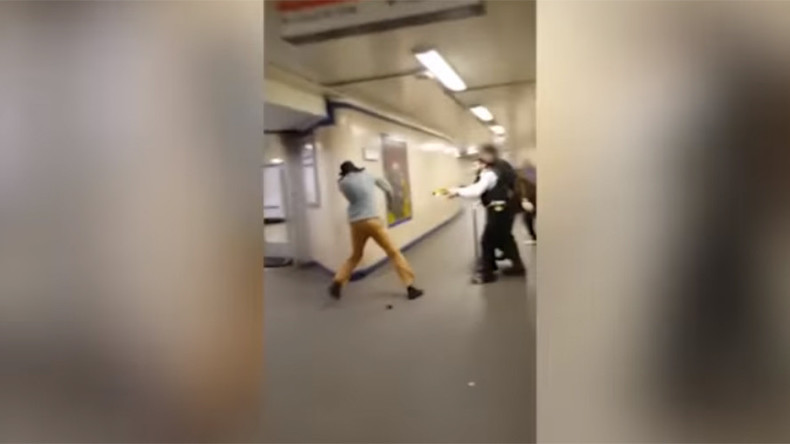 Dramatic footage of an Islamic extremist being tasered by police after he slit the throat of a random victim during a rampage at a busy London Underground station has been released by the Crown Prosecution Service (CPS).
Somali-born Muhiddin Mire, 30, slit the throat of Lyle Zimmerman at Leytonstone station so that his windpipe was exposed, in "retribution" for the fight against Islamic State (IS, formerly ISIS/ISIL) in Syria.
Jurors at the Old Bailey were shown footage captured by another passenger as officers hit Mire with a stun gun three times before he fell to the ground.
Daniel Bielinski, who filmed the incident, which took place in December 2015, can be heard in the five-minute clip screaming, "Call for police!"
CCTV footage shows Zimmerman, 56, fighting off his assailant before Mire cut his throat. He lay in a pool of blood in front of shocked passengers.
"I was very lucky that a doctor was passing by and the care afterwards and I am determined not to be dramatically changed by it," Zimmerman told the court, the Telegraph reported.
Following the attack, one onlooker shouted "You ain't no Muslim, bruv" after Mire told eyewitnesses "this is for Syria, for my Muslim brothers."
The court heard the former minicab driver had a history of mental illness. His psychosis involved the belief he was being persecuted for his religion and being followed by MI5 and MI6.
Mire denies attempted murder but admits four counts of attempted wounding and an alternative count of wounding with intent to cause Zimmerman grievous bodily harm.