Tory benefit sanctions driving vulnerable claimants to crime & poverty – report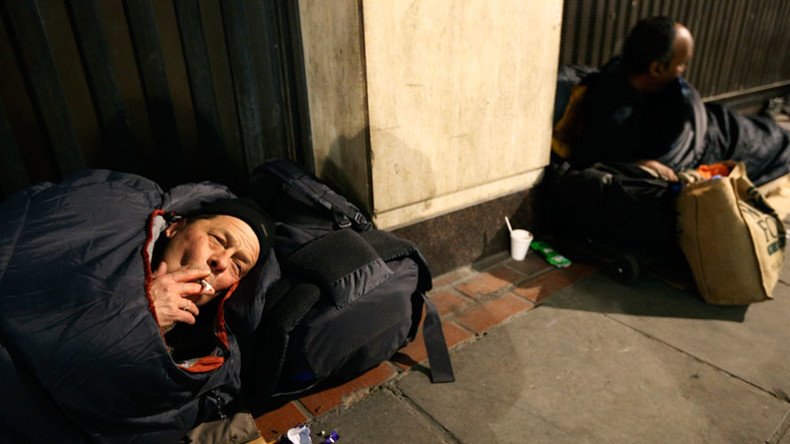 Benefit sanctions are driving "vulnerable" claimants to hunger, destitution and crime, a report by Salford City Council has revealed.
The research, first picked up by the Independent, warned that rather than encouraging claimants to enter the labor market, the sudden loss of basic income has adverse effects on mental health, which "could lead to self-harm or suicide."
According Department of Work and Pensions (DWP) figures, more than half of the Employment and Support Allowance claimants sanctioned between April 2014 and March 2015 had mental health problems.
"For some people this [sanctions] has led to a deterioration in an existing mental health problem and for others, they have presented with a new onset mental health illness, usually depression/anxiety," clinical lead for mental health on the clinical commissioning group Dr Tom Tasker said.
The report highlighted the plight of other vulnerable groups, including young people, those with dependent children and individuals whose first language is not English.
Evidence provided by the Salford Central Foodbank revealed that 62 percent of all referrals in 2014 were made by claimants who had been sanctioned.
"People on benefits are already struggling to afford food, heating and essential costs. They can't save so they have no financial safety net. They live in dread of being sanctioned which isn't the right frame of mind for job hunting, volunteering or going back into education," said Salford mayor, Paul Dennett.
Under the current DWP sanctions regime, claimants may face benefit cuts for a number of reasons, including missing or arriving late for JobCentre appointments or failing to go to enough job interviews.
A spokesperson for the Department for Work and Pensions defended the sanctions regime, telling the Independent: "It's only right that there are conditions attached to receiving benefits – this is nothing new.
"Sanctions are a long-standing part of the welfare system and are only applied where people fail to engage with the support on offer.
"The number of people sanctioned has fallen substantially in the past year."
Though on the whole DWP figures show a decline in the number of people on Jobseekers Allowance being sanctioned, the report suggests that many people stop claiming social security benefits because they are being "bullied off the books."
Noting that once "detached" from the system, people were at a much higher risk of hunger, homelessness and unmet medical needs, the study urged against the expansion of the sanctions regime to include low-paid working people on Universal Credit.
Under the new in-work conditionality rules, universal credit claimants who are working up to 35 hours a week will be required to seek more work hours, higher pay or an extra job in order to receive benefits.
The Salford research comes as a separate Transport for London report reveals a massive increase in rough sleeping on London's night buses. According to the research, rough sleeping has jumped 121 percent in the past four years.
Anthony Akers, Transport for London's head of bus operations said: "A lot of people think of rough sleepers as people who have drink and drug issues, where actually it could be a personal break-up, or a loss of a job that causes it."
You can share this story on social media: