'Declaration of war': North Yorkshire fracking approval sparks outrage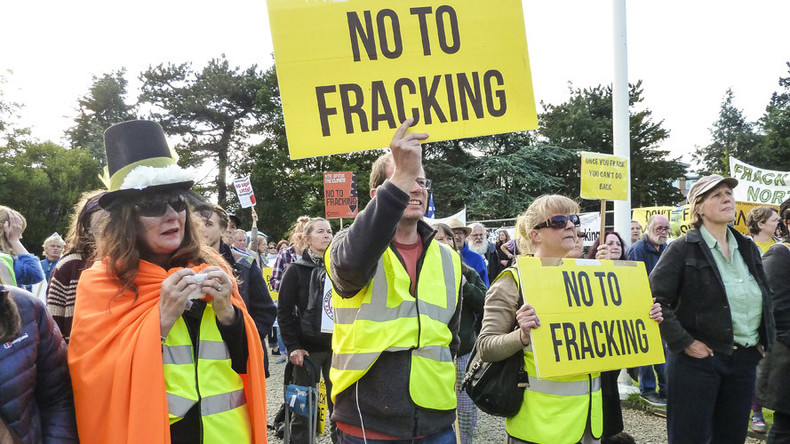 Anti-fracking campaigners have lambasted North Yorkshire council for attacking citizens' rights to fresh air and clean water, after the local authority approved Britain's first fracking operation since 2011.
Fracking will occur in Britain for the first time in five years following the local authority's decision to back the move on Monday night. The test drilling is expected to be conducted in the picturesque village of Kirby Misperton by British firm Third Energy. Councillors voted seven to four in favor of the development in the face of fierce local opposition.
The decision has sparked widespread anger among local anti-fracking campaigners, who have launched a people's declaration in a bid to halt the process. Calls for a full judicial review have also been issued by Friends of the Earth and Frack Free Ryedale, which spearheaded the campaign against Third Energy's application.
In a joint statement, both campaigns called on Downing Street to scrap its myopic approach to energy policy.
"We urge and will support the government to develop a balanced long-term energy policy that will achieve our globally agreed climate change targets," they said.
"Today we resolve to continue to fight to remain free from fracking, to protect our communities, our beautiful countryside, our air and water, and to protect the future of the planet. We ask people across the country to join us by supporting this declaration."
Public overruled
Campaigners from Ryedale and other regions of the UK had launched thousands of objections, as knowledge of Third Energy's plans to frack in North Yorkshire came to light.
Documents from North Yorkshire Council show a mere 0.8 percent of respondents to an official consultation backed fracking in the region, while 99.2 percent wrote in opposition of it.
The council's planning division had previously recommended Third Energy's proposal be approved, leaving councilors to cast their ballots on Monday evening.
As councilors exited the venue after the landmark vote, anti-fracking campaigners greeted them with a chorus of boos and hisses. Others warned fracking in Ryedale would severely hinder local farmers, the environment and the district's business community.
"It is a war, now, they've declared on us," Sarah Hockey, an anti-fracking campaigner from east Yorkshire, told the Guardian.
"It's a war on our human rights to clean air and water so we've got to take it like that and keep pushing and pushing and pushing."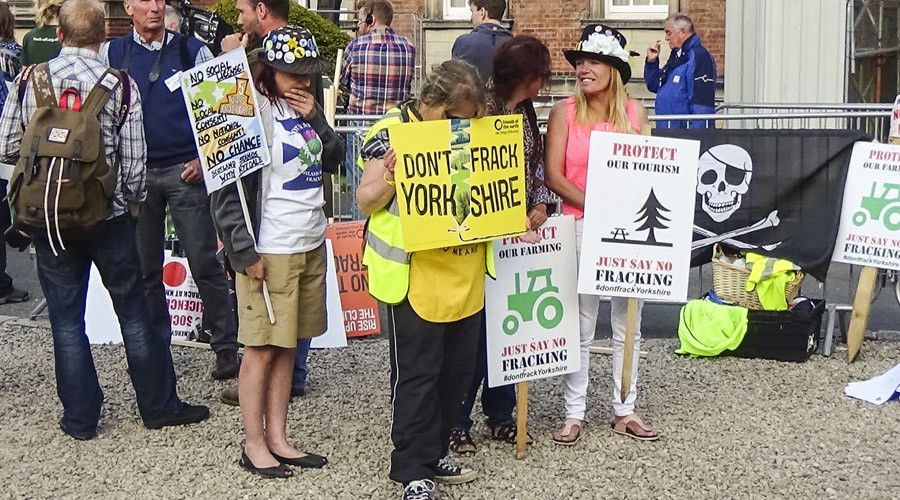 Third Energy wishes to frack at an existing drilling site located between Malton and Pickering, not far from Kirby Misperton. The sleepy village is nestled in England's Ryedale district, renowned for its natural beauty.
The company hopes to use an existing pipeline at its well site in Kirby Misperton to transport fresh water there, while funneling gas away to the nearby Knapton Generating Station. The two-mile deep well, dubbed KM8, was drilled in 2013. It forms part of a network of pipes that feed into other drilling sites owned by Third Energy, also linked to Knapton Generating Station.
Third Energy's pipeline system was sharply criticized in 2008 over substandard maintenance and management practices spanning back years. It was also slated after one of its pipes gave way to a toxic sour gas leak in 2014 at a Third Energy well site in Pickering.
If the energy firm's plans come to fruition, the test drilling site will be the first of its kind to move into production. Britain has been frack-free since 2011, after test drills for shale gas off the coast of Lancashire were thought to have caused a number of small-scale earthquakes. Two subsequent applications to frack in the region have since been rejected by local councilors but remain under appeal.
Third Energy's questionable record in Ryedale
Shale gas drilling involves pumping liquid deep beneath the Earth's surface at high speed to break apart rock and free gas. While Downing Street insists the energy extraction technique is key to bolstering Britain's economy and energy security, anti-fracking campaigners warn shale gas drilling could cause water pollution, traffic pollution, earthquakes and other forms of environmental degradation. Environmentalists also argue fracking is unsustainable in the face of a worsening global climate crisis.
A chief concern for anti-fracking campaigners opposing Third Energy's plans for Ryedale rests with the fact the firm has failed to prove beyond all doubt that the test drilling would prove safe and a benefit to local residents.
A briefing published by Frack Free Ryedale in February laid bare the energy firm's poor safety record in the pristine locale to date.
In particular, it highlighted "sour gas leaks," flooding issues, "staff accidents" and tensions with Britain's Health and Safety Executive (HSE) over practices employed and equipment used, which had occurred after Third Energy drilling in Ryedale.
Key to the study was a series of Freedom of Information (FoI) requests sent to the HSE that uncovered a number of unsavory issues.
One line of inquiry harks back to 2008. The HSE revealed the findings of its yearly pipeline review were so ominous that it wrote to the pipeline's operators - who are managed by Third Energy - highlighting the poor condition of the duct and other maintenance issues. Despite this warning, campaigners say little has been done by Third Energy to improve the condition of its pipeline system since.
A second line of inquiry revealed a sour gas leak had occurred in connection with this pipeline system in February 2014. A Third Energy staff member had reportedly witnessed water bubbling in a suspicious fashion at the energy firm's controversial Pickering well site. Third Energy arrived on the scene several hours later, and confirmed the bubbling substance was sour gas. The noxious gas is a form of natural gas that consists of high levels of hydrogen sulphide. It is more dense than air, highly corrosive, poisonous, flammable and explosive. According to some reports, it is also acutely toxic in small doses.
Sour gas explosions have occurred on numerous occasions across the US and Canada since 2011, prompting widespread concern. Although Third Energy repaired the offending pipeline that gave rise to the problem, the timespan of the toxic leak remains unknown.
A third line of inquiry revealed that despite this dangerous leak, the pipeline has not been inspected since 2010. Following an FoI request, the HSE confirmed there are no planned inspections of the duct scheduled for 2016. Campaigners fear the government body has ceased inspecting the pipelines altogether. They accuse the HSE of failing to regulate the UK's shale gas industry in a prudent or effective manner.
Environmental and public health concerns
Britain's Environmental Audit Committee demanded plans to frack in the UK be suspended in late January 2015 on the grounds the energy extraction technique undercuts the state's climate change targets and could pose "localized environmental risks to public health."
Speaking after North Yorkshire council approved the application for Third Energy to frack in Ryedale, ex-BBC Environment Correspondent Richard Black questioned plans to frack in the UK.
"Although proponents of fracking will claim today's decision as a victory, the fundamental questions around UK shale gas haven't changed," he said.
"As we see from protests outside the council today and from opinion surveys, the public is not supportive, and the economics remain unclear – so whether commercial fracking ever goes ahead is still an open question."
Black, who is also the director of Britain's Energy and Climate Intelligence Unit (ECIU), went on to question the sustainability of fracking in the face of global warming.
"Last year, the Commons Environmental Audit Committee said fracking is incompatible with our climate change targets, and the government hasn't been able to show they're wrong," he said.
"If leakage rates are above a few percent, gas burning turns out to be worse than coal for climate change, and yet the government hasn't set a maximum permissible leakage level."
Britain will not own gas extracted from the North Yorkshire site. Rather, it will likely be sold by Third Energy on the European market. In light of this fact, critics question whether such shale gas would do much to enhance the UK's energy and economic security.