'World praying for Remain,' says US diplomat, as Canada's Trudeau warns against Brexit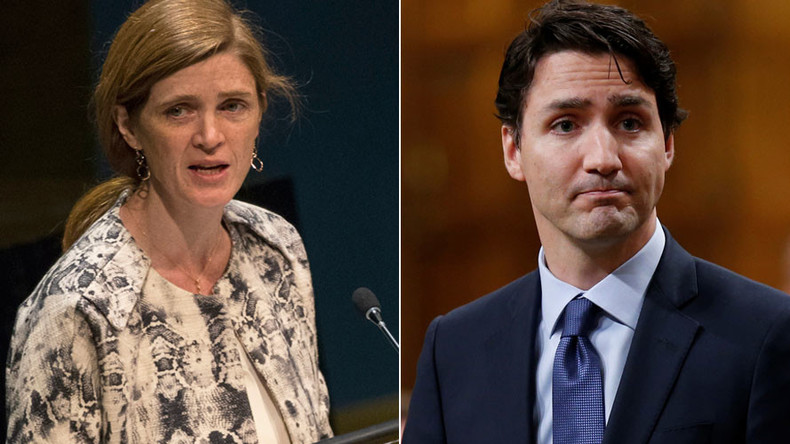 A senior US diplomat warned of 'ramifications' if Britain votes to leave the EU, while Canadian Prime Minister Justin Trudeau cast doubt on the Leave campaign's suggestion the UK could emulate Canada's trade agreements.
US ambassador to the United Nations Samantha Power made the astounding claim that nations around the world are "praying" for Brits to vote to 'Remain' in the EU referendum on June 23.
The former adviser to President Barack Obama, and key proponent of the US intervention in Libya, said ties between Britain and European countries cannot be "snipped in some tidy way."
"People have really invested in the linkages among European countries," Power said in an interview with political strategist David Axelrod.
"The idea that those can be snipped in some tidy way without ramifications for the people of the United Kingdom or across Europe and the world is not realistic.
"Some of the portrayal, I think, of the exit view seems to really undervalue the extent of intertwined-ness that has evolved over these years."
Powers said she agrees with comments made by Obama in London last month, when he provoked outrage among the Leave camp by saying Britain would be "at the back of the queue" for a trade deal with the US.
Her interview came as Canadian Prime Minister Justin Trudeau shot down the idea that Britain can easily form its own trade agreements with other countries, as Canada has.
Former London Mayor Boris Johnson had listed Canada as an example of a country that recently struck a trade deal with the US.
However the agreement took seven years to negotiate and still hasn't been implemented.
"There's nothing easy or automatic about that, so I think there's a bit of an oversimplification of the story happening there," Trudeau said.
The Canadian PM said the UK is stronger inside the EU.
"Britain is always going to have clout, it's just obviously amplified by its strength as part of the EU," he added.
Trudeau made headlines around the world this week after being caught on film elbowing a female opposition member of parliament in the chest.
The Canadian PM apologized for the third time last night, saying he expects "better behavior" of himself.