Brit, 22, who fought ISIS with Kurdish forces may face terror charges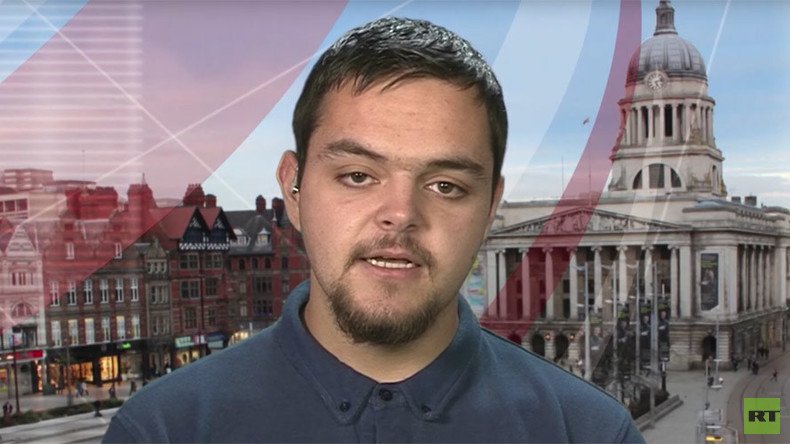 Police have extended bail for a 22-year-old Briton who was arrested in February on suspicion of terror offenses after returning from Syria where he had been on the frontline defending Kurdish civilians against Islamic State (IS, formerly ISIS/ISIL).
Aiden Aslin from Newark, Nottinghamshire, had spent 10 months in the war-torn state assisting the Kurdish People's Protection Units (YPG) in their fight against IS.
An armed wing of the Democratic Union Party (DUP), the YPG was founded in 2003 by Kurdish political activists. The party was previously branded "one of the most important Kurdish opposition parties in Syria" by the Carnegie Middle East Center.
Bail hearing
Aslin attended a bail hearing on Tuesday at Bridewell Police Station following his arrest by UK authorities in February 2016.
He was awaiting confirmation on whether he would be charged with terrorism offenses, but no ruling was issued. Rather, his bail was extended and a further hearing was set for July 20.
The Nottingham Kurdish Solidarity campaign, which is working to raise awareness about his case, told RT on Thursday the conditions of his bail remain unchanged.
Aslin spent almost a year helping Kurdish YPG forces in northern Syria before returning to Britain last February. His mother and grandmother were eagerly awaiting his return, but he was hauled away by police when he touched down at Heathrow Airport in London.
He was then taken from the airport to a police station in Nottingham, where he was detained for more than 30 hours before being released on bail.
His family say they were deceived by UK authorities while he was abroad, and reassured he would not be arrested after reaching the UK. Nevertheless, he was targeted by police under Section 5 and Section 54 of the Terrorism Act 2000.
The Nottingham Kurdish Solidarity Campaign believes police arrested him on suspicion of "engaging in conduct in preparation to commit an act of terrorism" and terror-related "weapons training."
His supporters say he deserved a "hero's welcome."
'Horror struck'
Aslin was horror-struck by brutal atrocities IS have committed against civilians across the Middle East.
He had no military training when he left Britain for Syria in April 2015, having previously worked as a carer in his home town. His supporters describe him as a compassionate and intelligent man who simply wanted to ease the suffering of innocent Kurds exposed to IS brutality.
The 22 year-old was one of an estimated 100 Western volunteers, including several other Britons, who helped YPG forces in Western Kurdistan (Rojava). The northern Syrian district has been under attack from IS militants for several years.
Aslin had followed the path of two other Brits, Konstandinos Erik Scurfield and Macer Gifford, who left the UK to fight alongside the YPG. While Scurfield died in battle in the Hasaka province of Syria on March 2, 2015, Gifford arrived safely back in Britain last year.
Gifford had spent five months fighting alongside YPG forces, but was not arrested by police after landing on UK soil. Since his return, he has campaigned to inform Westerners about the predicament Kurdish civilians in northern Syria face at the hands of IS.
UK government inaction
A Change.org petition has been launched in support of Aslin, calling on UK authorities to scrap possible plans to press charges against him. To date, it has gathered more than 1,400 signatures.
Speaking to RT in April, Aslin said he was horrified by images depicting IS brutality in Iraq and Syria.
He said he was particularly shocked by "the Yazidi genocide" and grew tired of UK government inaction. Probed by RT on whether he had fought directly against IS, Aslin declined to specify. However, he said he was "on the front line."
He stressed he was unaware of what offenses he could be charged with.
"I'm hoping they [UK authorities] see common sense and don't charge me and just let me go because if they want to charge me for going out there and fighting against a terrorist organization, the same organization Britain is fighting against and many other coalition force it's a bit of a disappointment, isn't it?" he said.
"I went out there for the Yazidis and the Kurdish people… people that are being murdered by these [IS] thugs."
The YPG is a largely Kurdish ethnic group but also recruits Westerners, Turks, and Arabs. It is backed by NATO-allied states across Europe, the US and elsewhere, and is one of the primary forces fighting IS in Iraq and Syria.
Speaking to the Newark Advertiser earlier this week, Nottinghamshire Police confirmed Aslin was still on bail. However, the force declined to comment further. Counterterror police have launched plans to review national guidelines for forces across the UK. Observers say the outcome of Aslin's case could prove a watershed moment in the field of counter-terror policy.
You can share this story on social media: