Regime change? UK denies joint-US plot to unseat South African President Jacob Zuma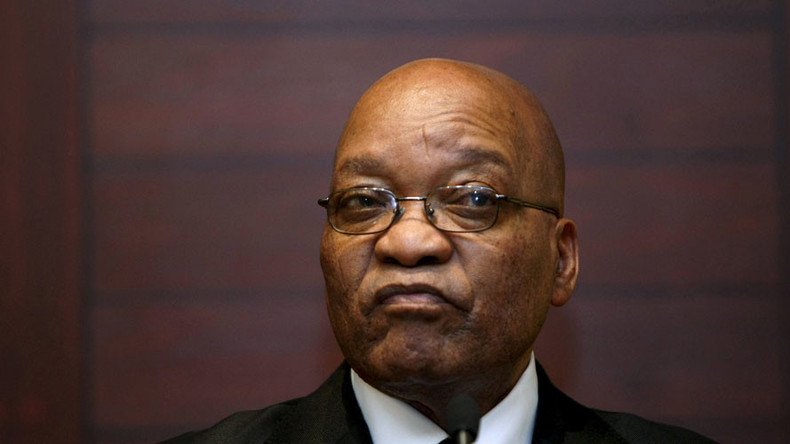 Britain has denied it wants to overthrow South African President Jacob Zuma, following claims by an African National Congress (ANC) spokesperson. Reports suggest the UK military is seeking to prop up the country's ruling party.
The denial came after Vice News reported the UK has drawn up a secret report on how to keep the ANC in power in the August local elections.
Responding to the report, ANC spokesperson Zizi Kodwa claimed the UK is trying to distract South Africans from the "real story" – that Britain is working with the US to overthrow the president.
A spokesperson for the UK Foreign Office said: "The British government does not interfere in democratic electoral processes in other countries."
Vice News revealed what it said were the Ministry of Defence (MoD) plans on May 16.
Freedom of Information (FOI) requests revealed that a group of British military officers from the Royal College of Defence Studies visited South Africa last year with the goal of "assess[ing] the political threats to continuing ANC rule in South Africa."
The MoD claimed the visit was "a purely academic exercise, strictly for internal college study purposes, designed to develop course members' skills in strategic analysis."
London Mining Network campaigner Richard Solly told Vice News the visit was "another example of the UK government's policy of supporting British mining companies and lobbying overseas governments for [favors] for those companies."
ANC spokesperson Zizi Kodwa claimed news of the report was an attempt to distract South Africans.
"We know they want to divert us from the real story. It [the UK] has done so in many other countries, working with America as part of a Western coalition, to unseat democratically elected government through undemocratic means. They are part of that agenda," he said, News 24 reports.
The ANC, which has governed South Africa since the end of apartheid rule in 1994, has been accused of rampant corruption and violent repression of political opponents in recent years.
Zuma, who is head of the ANC, has faced allegations of corruption "on a grand scale."
In 2012, South African police used live ammunition to fire on striking miners in Marikana, killing 47 people in three separate incidents.
Julius Malema, a former leader of the ANC youth wing, called on Zuma to resign after the incident.
"How can he call on people to mourn those he has killed? He must step down," Malema said.
You can share this story on social media: