Boris Johnson likens EU drive for 'superstate' to Hitler's, prompts shower of anger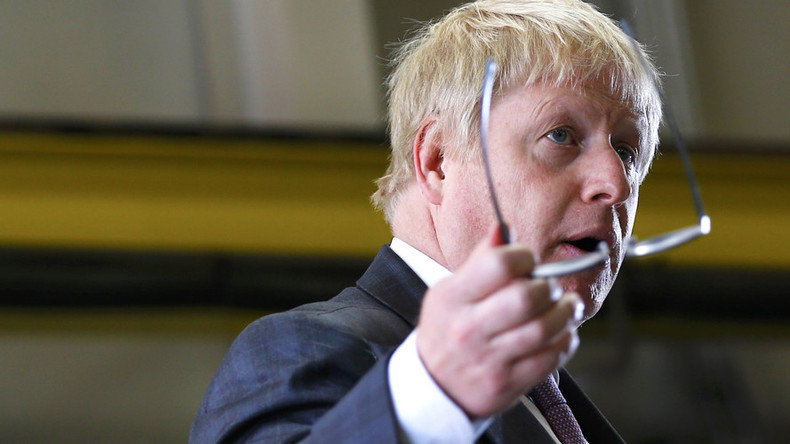 A frantic backlash has followed a remark by London's ex-mayor, Boris Johnson, who said modern EU bureaucracy pursues the same goals as previous European "integrators" Napoleon and Hitler did and thus creates a "massive democratic void."
The EU's principal objective is to create a powerful superstate resembling that of the Nazi leader, Boris Johnson said recently in an interview with the Telegraph.
"Napoleon, Hitler, various people tried this out, and it ends tragically. The EU is an attempt to do this by different methods," Johnson told the newspaper.
"But fundamentally what is lacking is the eternal problem, which is that there is no underlying loyalty to the idea of Europe. There is no single authority that anybody respects or understands. That is causing this massive democratic void."
The instant backlash to Johnson's remark came from the British opposition with its Shadow Foreign Secretary Hilary Benn saying: "Leave campaigners have lost the economic argument and now they are losing their moral compass.
"After the horror of the second world war, the EU helped to bring an end to centuries of conflict in Europe, and for Boris Johnson to make this comparison is both offensive and desperate," Benn said.
Johnson's remark has exposed the deficiency of the former London mayor's judgment and readiness to engage in the "most divisive cynical politics," former cabinet minister Yvette Cooper said. She is a member of the Britain Stronger In Europe campaign.
Cooper pointed out that while the EU "has played a critical role keeping peace in Europe," the Nazi leader "pursued the genocide of millions of innocent people."
Johnson is "desperately seeking headlines for a desperate campaign," Cooper concluded.
A renowned Euroskeptic, United Kingdom Independence Party (UKIP) leader and "Boris fan" Nigel Farage has expressed his support for Boris Johnson as a likely candidate to succeed Prime Minister David Cameron. The British PM in office is believed to be left with no other option but to resign in case the Brits vote in favor of leaving the EU (Brexit) at a referendum set for June 23.
As if to make the Conservatives even more infuriated, Farage went as far as expressing readiness to take a ministerial chair in Boris Johnson's government-to-be.
"I love Boris, respect him, admire him; I'm a Boris fan. Could I work for him? Yes. Could I see a scenario if he was PM and he asked me to do something? I wouldn't rule it out," Farage said in an interview with the Daily Mail on Sunday.