Cops apologize after getting fake bomber to shout 'Allahu Akbar' during terror drill (VIDEO)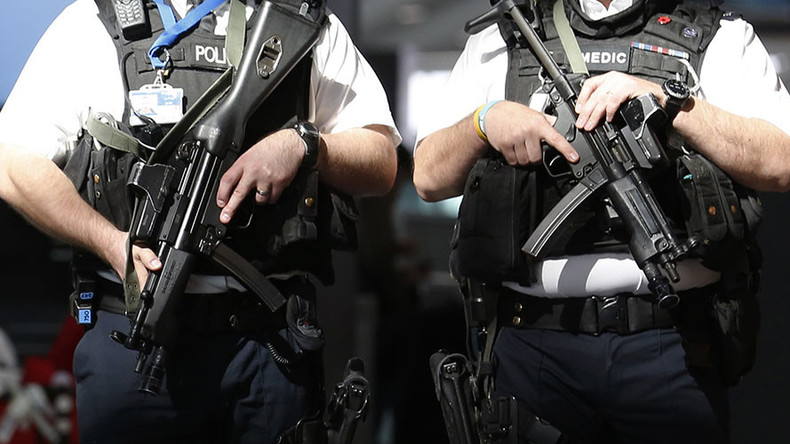 Manchester Police have issued an apology after getting a fake suicide bomber to shout a Muslim religious slogan during a mass counter-terror exercise in the city's Trafford Centre Tuesday.
The mass drill involved dozens of people splashed with fake blood and feigning bomb injury to simulate a major terror attack in the busy shopping area.
Assistant Chief Constable Garry Shewan of Greater Manchester Police told Sky News Tuesday that the test was to prepare for a "suicide attack by an extremist Daesh-style organization," using the Arabic pejorative term for Islamic State (IS, formerly ISIS/ISIL).
However, he acknowledged that "it was unacceptable to use this religious phrase immediately before the mock suicide bombing" because it "vocally linked" the exercise with Islam.
"We recognise and apologise for the offense that this has caused," he said.
Manchester's Mayor and Crime Commissioner Tony Lloyd told the channel it was "frustrating" that the exercise was "marred by the ill-judged, unnecessary and unacceptable decision by organizers to have those playing the parts of terrorists to shout 'Allahu Akbar' before setting off their fake bombs."
A number of community and religious groups criticized the decision after it became known what had happened.
Anti-gun activist Dr Erinma Bell MBE told the Independent that "we need to move away from stereotypes if we want to achieve real learning," adding that "terrorists can be anyone."
Islamophobia watchdog Community Safety Forum told the paper that the phrase was offensive and warned that "this sort of thing panders to stereotypes and further divides us."
A recent study suggests that the critics may have a point.
In February a report by the Royal United Services Institute (RUSI) suggested that the UK was as much at risk from fascist terrorism as that carried out by jihadist groups.
The authors of the report were themselves surprised by the results.
"Given the intense public focus on religiously inspired terrorism, the finding that right-wing extremists account for a similar proportion of perpetrators within the database is particularly significant," they said.