Drone 'kill list' could leave MPs, military & spies 'facing murder charges'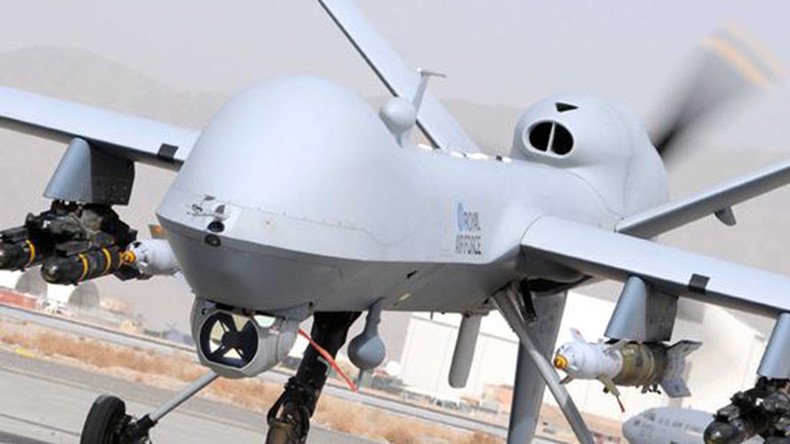 Britain's drone 'kill list' could leave politicians, pilots and intelligence personnel facing murder charges unless rules of engagement are quickly clarified, a parliamentary report has warned.
The joint committee on human rights warned on Tuesday that killing with drones outside warzones could lead to "criminal prosecution for murder or complicity in murder."
The report also warned that the widely-used term "targeted killing" sounded "uncomfortably close to assassination" and took the view that the UK pursues an active policy "to use lethal force abroad outside armed conflict" under the banner of "counter-terrorism."
The committee acknowledged the likelihood of the Crown Prosecution Service (CPS) pursuing a case is slim, but said authorities in other countries may if their citizens are killed.
Chaired by Labour's Harriet Harman, the committee also said the UK owed it "to all those involved in the chain of command for such uses of lethal force to provide them with absolute clarity about the circumstances in which they will have a defense against any possible future criminal prosecution."
The investigation began in August 2014 after it was announced a UK targeted drone strike had killed British Islamic State (IS, formerly ISIS/ISIL) fighter Reyaad Khan in Syria.
The killing took place prior to December's parliamentary vote on military action in the country. The US had developed a pattern of carrying out drone strikes in regions which are not official warzones such as Yemen and Pakistan, a trend which critics find worrying.
Harman's panel said it is "vital that the legal line between counter-terrorism law enforcement and the waging of war by military means does not become blurred, leading to the use of lethal force in circumstances not permitted by law."
Human rights NGO Reprieve warned on Tuesday the report highlighted some of the risks involved in an assassination policy.
Reprieve staff attorney Jennifer Gibson said "this is a wakeup call."
She warned there is a "very real danger that the UK is following the US down the slippery slope of kill lists and targeted killings."
"This is alarming, given the CIA's secret drone war has killed hundreds of civilians and been described as a 'failed strategy' by [US President Barack] Obama's own former head of defense intelligence," she added.
While UK Prime Minister David Cameron acknowledged at the time that the Khan killing was a "new departure," the government maintains it only uses such methods in cases where there is an "immediate" or "imminent" threat to the UK.
You can share this story on social media: