'Unprecedented': UK activist fearing US extradition, 99yr sentence awaits landmark court ruling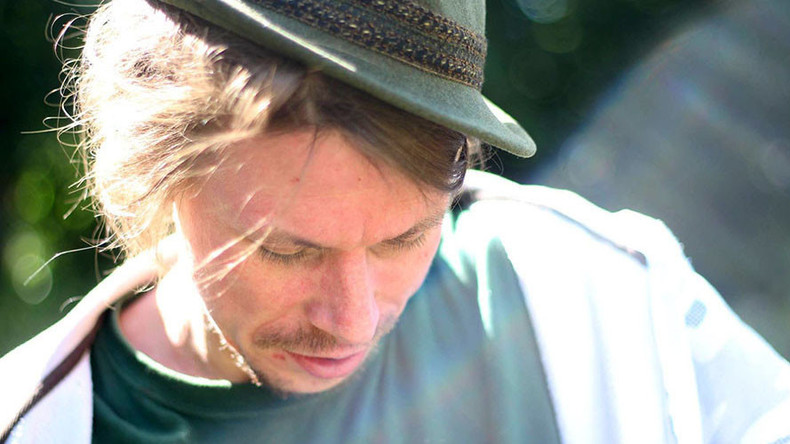 UK authorities have hijacked a civil suit launched by a political activist from Suffolk accused of hacking into the Federal Reserve, in a move that has sinister implications for journalists and others who rely on encrypted data.
Gifted electrical engineering student Lauri Love, 31, stands accused of intercepting online systems operated by the Fed, NASA, the FBI, the US Department of Defense and the US Environmental Protection Agency, among others.
The US Department of Justice (DoJ) is pursuing him with three extradition orders, claiming he and several collaborators violated millions of US networks between 2012 and 2013, landing US tax payers with a multimillion dollar damages bill.
The series of political protests, dubbed "#OpLastResort," was orchestrated by online activist network Anonymous to decry the US criminal justice system's draconian persecution of the late Aaron Swartz. Facing $1 million in fines and up to 35 years in prison, the talented programmer and entrepreneur eventually took his own life in 2013. He was just 26 years old.
Information war
Love is suing Britain's equivalent of the FBI, the National Crime Agency (NCA), for the return of multiple electronic devices seized from him during a 2013 police raid. He was arrested in October of that year for alleged offenses under Britain's Computer Misuse Act, supposedly relating to #OpLastResort.
Following his arrest, the NCA snatched a range of computers, drives and other devices from Love's family home and handed him an order under Section 49 of the Regulation of Investigatory Powers Act 2000 (RIPA) to surrender his encryption keys. The NCA had hoped to sift through his data to ensure it was solely his.
Love flatly refused to comply, and was later released on bail. His police bail expired nine months later and the NCA's probe appeared to have ground to a halt. However, the law enforcement body held on to six of his devices which investigators had been unable to decrypt.
When Love later launched a civil suit to regain access to these devices, the NCA retaliated. In a sinister twist of events, the law enforcement body attempted to use his civil suit as a mechanism to push for the erosion of privacy rights. Love's supporters criticized the manoeuvre, branding it a defacto power grab that could see his Fifth Amendment rights violated if the British government extradited him to the US.
Legal back door
During a hearing at Westminster Magistrates' Court last month, District Judge Tempia heard arguments from Love's legal counsel and the NCA. Judge Tempia reserved her final ruling until May 10.
Love is due to return to Westminster Magistrate's Court on Tuesday morning, where the judge will decide if the NCA can use his civil property suit to force him to hand over his encryption keys. The NCA is adamant that Love must surrender the passwords to secure the return of his property, despite the fact no charges have been brought against him. This would enable the law enforcement body to scrutinize his private data without evidence of wrongdoing.
Love, who is a passionate privacy rights advocate and social justice campaigner, says he is unable to assist with the NCA's request.
The case casts a glaring spotlight on the global debate concerning the sanctity of encrypted data and governments' right to penetrate it. It also raises deep concerns about the continued erosion of privacy rights and state sovereignty in a cross-border climate of mass snooping.
Developed democracies don't require citizens to testify against themselves. The police may not demand your password. https://t.co/SdDzQbjrwu

— Edward Snowden (@Snowden) May 4, 2016
Lawyers, journalists, privacy rights campaigners and hackivists worldwide are outraged at the treatment Love is receiving, arguing that his civil suit has been manipulated to violate his human rights and the privacy rights of UK citizens at large.
The Courage Foundation, which offers support to those who risk their life or freedom to make serious contributions to the public record, is backing Love's refusal to hand over his keys. It is also raising funds to help fight his extradition battle.
The group's campaign officer, Naomi Colvin, says the judge's decision on Tuesday could set an ominous precedent for anyone in Britain who relies on encrypted data.
"A decision in favor of the NCA tomorrow would be breaking new ground. While the UK does have a key surrender law, this would make it much easier for police to compel people to hand over their passwords, bypassing the safeguards that Parliament stipulated back in 2000," she said.
"That prospect should worry anyone in the UK with an interest in communicating or storing information securely. Since developments in the UK are watched with interest by other governments, the ramifications could well end up being felt internationally."
Love's US lawyer, Tor Ekeland, previously told RT the NCA may have collaborated with US authorities behind closed doors with respect to his client's case.
"It is my understanding, although I have not seen confirmation of this, that mirror images of Lauri's drives were sent to the U.S," he said.
"This is a war over who controls information. Anything that threatens the [US] government's control over information is viewed as a direct threat and is punished accordingly".
Ekeland argued talented computer enthusiasts often hone their skills through hacking.
"If the U.S. had been prosecuting computer crimes in the 1970's like they are now, Steve Jobs, Steve Wozniak and Bill Gates all would have gone to jail and you would have no Apple or Microsoft because both those companies were started by hackers," he said.

"Every good computer person I know learned their craft by hacking. It's no coincidence that modern hacking arises from MIT, one of our prestigious research universities."
'Unprecedented and unjust'
The treaty governing UK-US extradition proceedings came into force in April 2007 and has been branded one-sided by critics. It allows the US government to extradite UK citizens for alleged crimes committed under US law on British soil.
The British government has no such reciprocal right. Critics also argue the degree of evidence required to extradite an American citizen to Britain is significantly higher than that needed to hand over a UK citizen to the US.
Technologist and surveillance expert at Privacy International (PI) Dr Richard Tynan says the NCA's demands are unjust and unprecedented.
"At the moment, there is a presumption that computers in the custody of the NCA contain prohibited information. There is no evidence upon which the UK police are basing this presumption," he told RT.
"In relation to some of the exhibits, the UK police are unable to even ascertain whether or not encryption has been used."
Tynan warned Tuesday's ruling will have far-reaching consequences.
"Given the unfettered access that the USA has to the UK spy agencies' data, as shown from the Snowden disclosures, it is clear that the UK can do the dirty work of the US government in collecting data that it could not under its laws," he said.
"It is difficult to see how any journalist, worth their salt, would not sympathize with Lauri Love in this case as the protection of their sources and the material they disclose are essential in holding the powerful to account."
Love's US-UK legal team say he could face up to 99 years in prison if extradited to America. The NCA previously declined to comment directly on his extradition proceedings or those concerning his civil property suit. When asked whether it felt pressured by the NSA and/or other US authorities regarding Love's case, a spokesperson for the law enforcement body said: "The NCA is an independent law enforcement agency. We would not routinely confirm or deny specific communications with partners."
In January 2011, Aaron Swartz was arrested by officers based at the Massachusetts Institute of Technology (MIT) Police Department, after he rigged up a computer to the prestigious university's network in a nearby closet.
The computer had been set to download journal articles from well-known digital library JSTOR, which the university used. US prosecutors subsequently charged the internet prodigy with eleven breaches of the US Computer Fraud and Abuse Act and a further two counts of wire fraud. Facing crippling fines and the potential prospect of decades in prison, Swartz tragically committed suicide in 2013. His untimely death hurtled political activists and digiphiles across the globe into mourning.