200 migrants detained by UK stage hunger strike & occupation over 'slave-like' conditions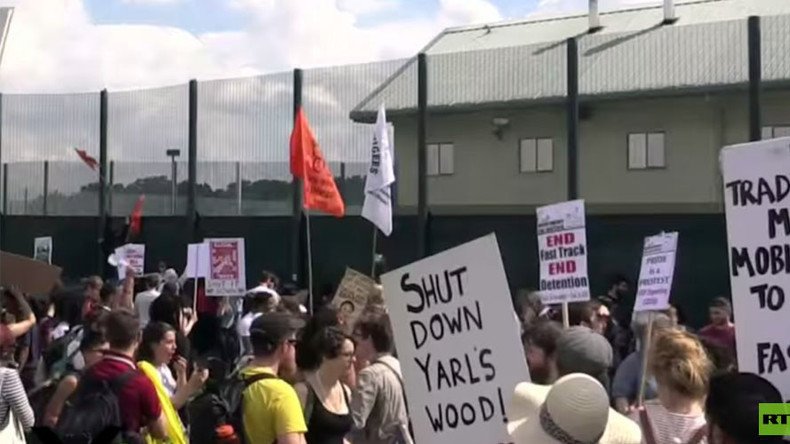 More than 200 asylum seekers and migrants held in UK detention centers went on hunger strike and staged occupations in protest against their confinement and conditions over the weekend.
The wave of protests saw one Iranian detainee allegedly attempt suicide in Harmondsworth Immigration Removal Centre on Saturday afternoon.
The hunger strike follows demonstrations held outside detention facilities nationwide.
Britain's policy of open-ended detention of asylum seekers and migrants has come under intense criticism from campaigners, MPs and judges, who have described the system as expensive, ineffective and unfair.
At the Harmondsworth detention center in Middlesex, 190 detainees refused to eat lunch, while a further 50 occupied the yard.
A male detainee at Harmondsworth told the Morning Star: "We all will continue this protest, but we feel hopeless […] because inside the center we can't trust any of the staff members, their behavior is like they are kings and we are slaves."
"We are struggling with the non-human behavior of staff.
"There are so many detainees here for more than 10 months. Day by day, everyone is becoming mentally ill."
Speaking to RT, Karen Doyle of Movement for Justice, an organization campaigning for the closure of Britain's detention centers, said such protests will continue to grow until the centers are shut down.
"These hunger strikes are the latest in waves of actions, protests and resistance by detainees over last few years. It's clear that detention is a stain on the UK's stated commitment to human rights," she told RT.
"Protests outside the detention centers have also grown, these centers are no longer the UK's dirty little secret – the truth has been exposed time and time again.
"These protests will continue and grow until detention centers are closed down."
Detainees welcomed the demonstrations held outside the center.
An anonymous detainee, quoted by Detained Voices, said: "It's great that there are people doing a protest for us. I really appreciate their help.
"At least they are listening and trying to do something. The people who are doing the protest are doing something really important. This is about our rights."
Suicide attempts in Britain's immigration detention centers have reached an all-time high, official figures show, with an average of one suicide attempt every day.
Figures released by the Home Office following a freedom of information (FoI) request show there were 393 suicide attempts over the course of 2015, a rise of 11 percent on the previous year.
You can share this story on social media: