UK at war? SAS in Syria, 25,000 ISIS dead, British troops in Somalia & anti-chem tanks on patrol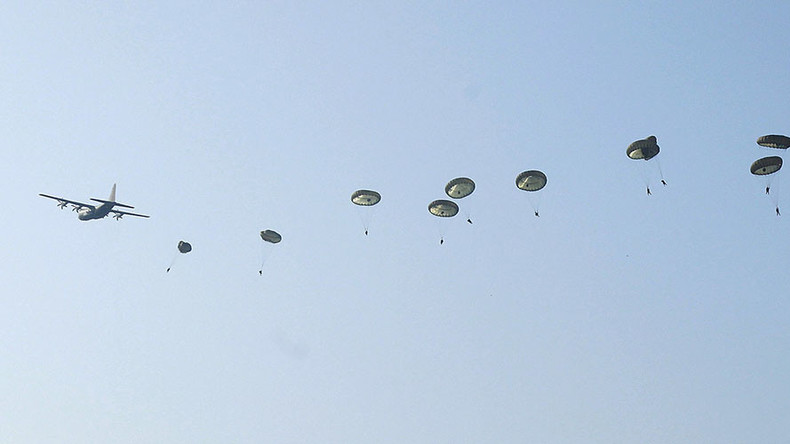 British special forces are to be parachuted into Syria, it has emerged, as Defence Secretary Michael Fallon claims coalition airstrikes have killed 25,000 Islamic State (IS, formerly ISIS/ISIL) fighters since bombing began.
Syria's not the only place seeing new troops from Britain. A detachment of UK personnel has arrived in Somalia to lead a training mission. However, they probably won't need the anti-chemical warfare tanks that are now being brought back into service.
25,000 ISIS dead
Fallon told the Tory Cabinet on Tuesday that 25,000 IS combatants have been killed in coalition airstrikes, including 600 in April alone.
Following the meeting, a spokesman for Prime Minister David Cameron told the Press Association that Britain is playing a vital role in the war and is helping "Kurdish and other partners liberating key areas of Syria and also managing to cut off the main route between Raqqa and Mosul."
Given there are officially no boots on the ground in Syria, it remains unclear how Battle Damage Assessments (BDAs) have been carried out to support these figures.
The government denies there have been any civilian casualties, a claim that monitoring group Air Wars have branded "ridiculous."
Death from above?
Although already suspected of operating in the region, Special Air Service (SAS) troops may be parachuted into Syria to hit IS targets, according to reports.
Specialist squadron sub-units called "air troops" could use their High Altitude Low Opening (HALO) skills to jump from aircraft and descend upon their enemies – with Special Boat Service (SBS) Marines carrying out a similar role.
A source told the Mirror on Monday that while helicopters are too noisy, a C-17 aircraft "can drop off paratroopers from a long way off and, with GPS, the troops will land very close to the target area and surprise the enemy."
Training mission
The first UK troops have deployed to Somalia to support local forces. Up to 70 troops will provide logistical, medical and other kinds of support to the African Union (AU) mission in the country.
While their role has been branded strictly non-combat, reports of a US soldier's death in Iraq on Tuesday bring into relief the blurred line between training or advisory roles and actual combat.
Reports on Tuesday indicate the US soldier – the third killed since US anti-IS operations got under way in 2014 – was mentoring Peshmerga troops when he came under fire from insurgent forces several miles inside friendly Kurdish territory.
Chemical tanks
The British Army has also dusted off its special nuclear, biological and chemical (NBC) warfare tanks just five years after they were mothballed.
Falcon Squadron of the Royal Tank Regiment (RTR) has just returned from desert exercises in Jordan. Its commander, Major Gareth Morris, told the Telegraph his men's fleet of $1.5 million armored cars could prove vital in the event of a terror attack.
The vehicles are used in a "sniffer" role, feeding vital encrypted information from the battlefield back to the military's secretive science facility on Porton Down, Wiltshire.
The Fuchs vehicles, which were last used in Iraq in 2003, can be made airtight "a bit like a submarine." The crew of six can survive in the cramped confines for days while sending reports. The only catch is the internal biological threat of having to answer calls of nature in plastic bags for the duration.