UKIP's Farage racks up £15k daily EU bill on bodyguards who fetch 'refreshments'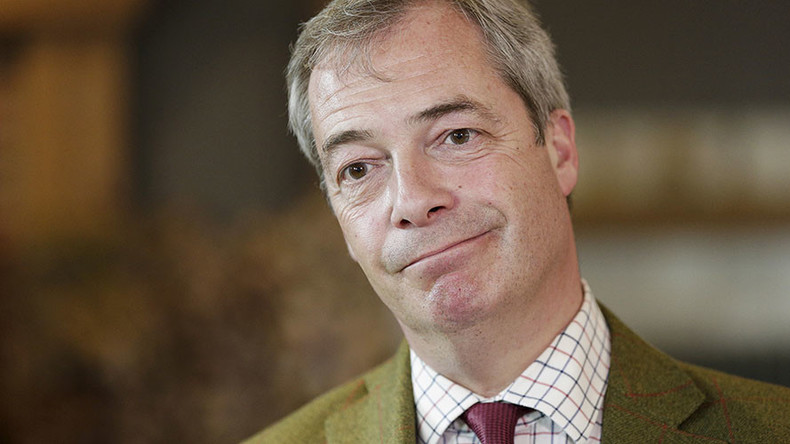 UKIP leader Nigel Farage used up to £15,000 a day in taxpayer-funded EU money to hire personal bodyguards - despite being one of the biggest Brexit campaigners.
A team of ex-military personnel were used by the party leader, according to leaked documents in Brussels.
Secura Associates, the firm used, boasts Sir Elton John as one of its previous clients and sent invoices to the European Parliament for services rendered for the UKIP leader.
READ MORE: EU referendum: Farage warns on mass immigration, Major suggests Brexiteers go to N. Korea
Guards had a long checklist of tasks, which included "ensuring refreshments have been arranged" for Farage and accompanying the MEP throughout his tour, even when he performed speeches in front of small crowds.
Farage has repeatedly criticized the role of the EU, and the UK's contribution to it, yet gave the EU a hefty security bill for £58,000 for five events, including a relatively quiet visit to a darts arena in Essex where he didn't face a single protester.
READ MORE: The day in Brexit: Unusual alliances form as Farage enjoys popularity spike
Conservative MP Damian Collins said it was hypocritical for Farage to complain about the EU, while billing its taxpayers
"For Nigel Farage to complain about EU waste while billing European taxpayers for the costs of his tour is the height of hypocrisy," he said. "It is very clear that the people of Britain cannot trust Farage and his crew with what is best for our country.
Liberal Democrats leader Tim Farron said UKIP was "taking the British taxpayer for a ride."
"Nigel Farage complains about EU funding but he's got no qualms about using it for his own ends," he added.
The European Parliament said it was up to Farage how his Europe of Freedom and Direct Democracy group (EFDD) spent its annual £2.5 million EU funding, according to the Daily Mail.
UKIP holds eurosceptic and anti-immigration stances.