'Humiliated, isolated': Over 1.25mn destitute in 21st century Britain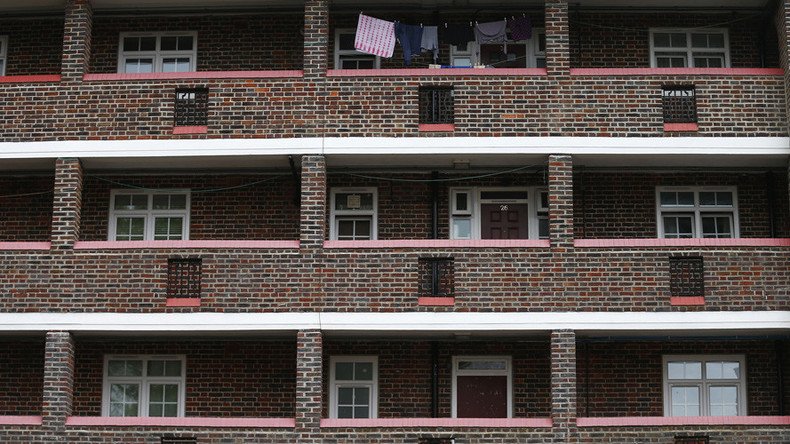 In a climate of unyielding austerity, more than a million people across the UK are so impoverished they don't have enough food, clothes, heating, shelter and toiletries, Britain's first study into destitution has revealed.
The report, which was commissioned by UK organization the Joseph Rowntree Foundation (JRF), used a new method to measure the scale of extreme poverty in Britain.
At present, there are no official government estimates of the level of destitution across the UK. But amid growing concern that extreme poverty is on the rise, the JRF commissioned a special report to investigate the matter.
The study was conducted by academics at Herriot-Watt University, a range of other experts and a number of key UK service providers. It took two years to complete, and was published on Wednesday.
It found that a startling 1.25 million people were destitute during 2015, 312,000 of whom were children. Some 80 percent of these were born in Britain.
While young, single citizens – especially men – were found to be more likely to face extreme poverty, considerable numbers of families were also found to have suffered destitution.
Most severe form of poverty
Destitution is defined as the "most severe form of poverty in the UK," which leaves people in such financial jeopardy they are unable to afford vital essentials such as food, toiletries and heating.
In order to discern whether an impoverished person can be defined as destitute, the report's authors said they must lack two or more essentials deemed vital for basic living over a four-week period.
People who fell into this category included: those who had been forced to sleep rough; had no meal or just one per day over a period of 48 hours or longer; were unable to heat or light their home adequately for five or more days; lacked weather-proof clothes or had to go without basic toiletries.
No central cause for destitution was uncovered. However, the majority who fell into this category had been impoverished for some time and had arrived at a tipping point that plunged them deeper into financial struggle. Key drivers in this respect were spiraling financial costs of ill health, soaring rental and property prices, joblessness, and financial shocks such a delays or sanctions to benefit payments.
Areas rife with destitution
High rates of destitution were uncovered in ex-industrial areas across the northwest and northeast of England, Scotland, South Wales and Northern Ireland, as well as in inner-city London.
Unemployment was rife in these regions, while rates of long-term sickness and disability were also found to be above average.
In-depth interviews with 80 destitute citizens revealed that 30 percent had had their benefits sanctioned. Over 50 percent of this group made a direct link between being stripped of welfare payments and failing to meet the cost of basic living essentials.
Director of the Institute for Social Policy, Housing, Environment and Real Estate (I-SPHERE) at Heriot-Watt University, Professor Suzanne Fitzpatrick, who was a key author of the report, said destitution severely impacts peoples' physical and mental health.
"The people we spoke to told us they felt humiliated that they couldn't afford basic essentials without help. Many said that this affected their relationships and left them socially isolated," she said.
"This report has shown that destitution is intrinsically linked to long-term poverty, with many people forced into destitution by high costs, unaffordable bills or a financial shock such as a benefit sanction or delay. More co-ordinated debt-collection practices, particularly from DWP, local councils and utility companies, could help to avoid small debts tipping people in to destitution."
Chief Executive of the JRF Julia Unwin said the number of people living in destitution across the UK is shocking.
"It is simply unacceptable to see such levels of severe poverty in our country in the 21st Century," she said.
"Governments of all stripes have failed to protect people at the bottom of the income scale from the effects of severe poverty, leaving many unable to feed, clothe or house themselves and their families."
Unwin added that tackling many of the root causes of destitution would be difficult.
"Many people affected are living on a very low income before they are no longer able to make their incomes stretch, or a financial shock like a benefit delay or family breakdown pushes them over the edge into destitution. We have to tackle these root causes," she said.
"Government, businesses and communities need to work together to provide better emergency support, make basic essentials more affordable and create better jobs if we are to end destitution in the UK."
Calls for reform
The report's authors identified those who were destitute by surveying people who relied on charitable crisis services such as foodbanks, debt advice groups, homelessness groups, and key services for migrants. Samples were taken from nine areas across the UK over a seven-day period in 2015.
This did not factor in those who only received help from councils or state programs, or those who found themselves in deep financial crisis but did not seek assistance. As a result, the report estimates the true number of people living in destitution in Britain is likely "significantly higher" that 1.25 million.
JRF is calling on Britain's Office of National Statistics (ONS) to start officially monitoring the number of destitute people across the nation. The group argues government policy, the UK's business sector, and local communities must work in unison to offer better support to people in the throes of acute financial crisis.
In particular, it is calling for the government to address Britain's housing crisis and the significant rise of precarious, low-paying work seen since 2010.
You can share this story on social media: