British billionaire faces MP grilling over 'extraction of millions' from collapsed BHS chain
Published time: 27 Apr, 2016 10:52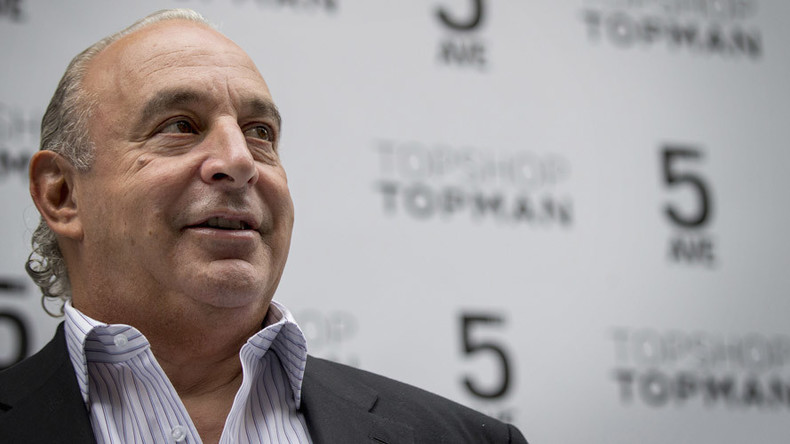 Retail mogul and former owner of British institution BHS, Sir Philip Green, will be summoned to parliament as part of an investigation into the collapse of the department store chain. He faces calls to give up his knighthood.
Green, who was knighted under the Tony Blair administration for his "services to retail," is facing an inquiry by the work and pensions committee over his role in the downfall of the 88-year-old department store, which has put 11,000 jobs on the line and threatened to close over 164 stores.
Green bought BHS in 2000 for just £200million and sold it last March to Retail Acquisitions, a consortium led by twice bankrupt ex-racecar diver Dominic Chappell, for a nominal sum of £1.
Shadow Business Secretary Angela Eagle noted that the pension fund was just £5million in debt when Green took over leadership in 2000.
"There are some serious questions to answer, not least by the former owner Sir Philip Green," she said.
Eagle accused Green of "extract[ing] hundreds of millions of pounds from the business and walked away to his favorite tax haven leaving the PPF to pick up the bill."
Most of the Green family's estimated £3.22-billion fortune is held offshore by his wife in Monaco.
Wonder if Cameron still thinks Philip Green was a suitable person to conduct a report on waste and efficiency.

— Jason Beattie (@JBeattieMirror) April 25, 2016
Green has reportedly offered to pay £80m towards the cost of BHS pensions, but critics are saying this figure does not go nearly far enough.
Chair of the committee Labour MP Frank Field said on Tuesday that the probe would investigate how BHS' £571-million pension fund deficit will affect the government sponsored pension protection fund (PPF), which is preparing to take on BHS pension liabilities.
After the company confirmed that it was going into administration on Monday, MPs on both sides of the aisle roundly attacked Green for mismanagement of BHS, calling on him to repay the more than £400 million he received from the BHS in dividends over the course of his 15-year tenure as its chair.
Labour MP John Mann, a member of the Treasury committee said: "Sir Philip Green and his family have made millions out of BHS and its hard working staff. He took over a company with a healthy pension pot, yet when he sold BHS a black hole had appeared in its fund.
"Sir Philip Green has taken over £400m out of the company and now must be held responsible for the actions that were taken under his stewardship.
"There is a very simple and honorable solution to this crisis: repay the dividends, live up to the name he has chosen for his new yacht, 'Lionheart', or lose his knighthood."
During a debate on the collapse of BHS, Tory MP Richard Fuller accused Green of being a "Judas" and betraying employees and pensioners.