'Problem with the Middle East is not enough Western intervention' – William Hague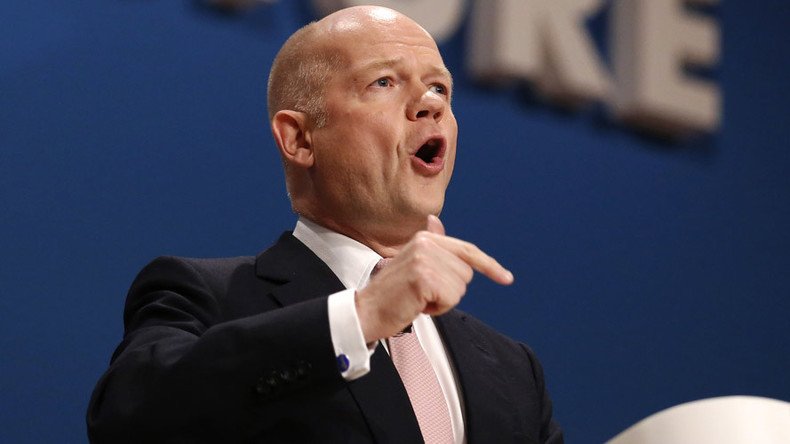 The problems of the Middle East and North Africa are being compounded by a lack of "Western involvement," former Tory Foreign Secretary William Hague has claimed in a surprise intervention.
Hague, who headed the Foreign and Commonwealth Office (FCO) between May 2010 and July 2014, said without foreign guidance the region's booming population, as well as "religious hatred, poor governance" and a "lack of economic success," would see Europe flooded with migrants.
Acknowledging some of the mistakes of the UK's 2011 war in Libya and its disastrous aftermath, Hague wrote in the Telegraph: "There is a danger of drawing the wrong conclusions from this experience, and enfeebling ourselves with a reluctance to send force overseas just when we will have a vital need to do so."
For those who oppose intervention by citing Iraq and Libya, he said: "There is a good answer: we know what non-intervention looks like, and that is Syria. Staying out of a conflict can go just as wrong as getting into it."
Hague's argument appears to rest on the assumption that Western intervention has not fueled the current chaos in the Syria.
It is a view that some surprising commentators have come to contest.
Challenged on the rise of Islamic State (IS, formerly ISIS/ISIL) in Syria on CNN in October 2015, former UK Prime Minister Tony Blair admitted: "Of course you can't say those of us who removed Saddam in 2003 bear no responsibility for the situation in 2015."
William's secret war?
Further evidence suggests that far from being a purely internal issue the violence in Syria was partially fueled by clandestine Western interventions on Hague's watch.
In June 2015, a terrorism trial at the Old Bailey collapsed when it emerged Jabhat al-Nusra – the Al-Qaeda affiliated group the accused was alleged to support – had been armed by the UK security services.
While representing the Swedish-born defendant Bherlin Gildo, Henry Blaxland QC told the court: "If it is the case that HM government was actively involved in supporting armed resistance to the Assad regime at a time when the defendant was present in Syria and himself participating in such resistance, it would be unconscionable to allow the prosecution to continue."
Gildo's solicitor Gareth Pierce later said it would have been "an utter hypocrisy to prosecute someone who has been involved in the armed resistance" given the reasonable belief that the arms used to resist had been supplied by the UK for that purpose.
Gildo was accused of received training at a Syrian terrorist camp with weapons that may have been supplied by the UK intelligence services between August 2012 and March 2013.
The case collapsed, causing huge embarrassment to the UK government and intelligence services.
You can share this story on social media: