Obama's UK visit: The hostile reception for US president over Brexit vote 'meddling'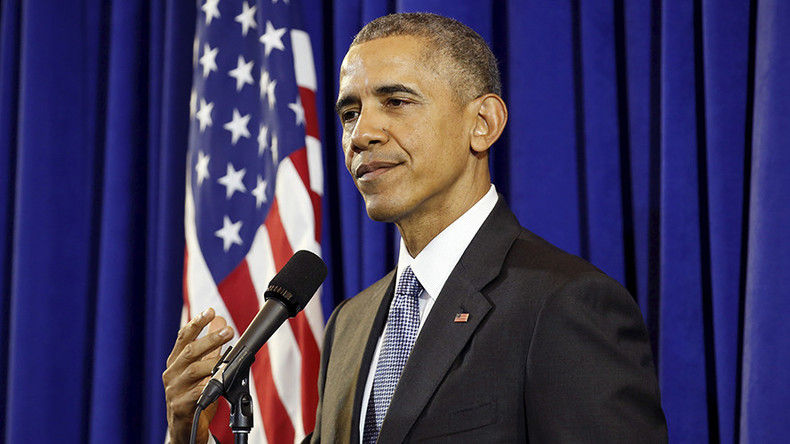 US President Barack Obama arrives in the UK on Thursday to urge the British public to vote to 'remain' in the European Union in the June 23 Brexit referendum. Since the presidential visit was announced, however, critics have told him to "butt out."
His appearance will be welcomed by the pro-EU campaign and Prime Minister David Cameron.
Obama is expected to reiterate his view that Britain's "special relationship" with the US is best served by remaining in the union.
However, Brexiteer and UKIP leader Nigel Farage has said "President Obama should butt out."
"This is an unwelcome interference from the most anti-British American president there has ever been. Mercifully, he won't be in office for much longer," Farage said.
Senior Tory 'leave' campaigners have been just as withering in their commentary, with US-born London Mayor Boris Johnson accusing Obama of "outrageous and exorbitant hypocrisy."
"There is no country in the world that defends its own sovereignty with such hysterical vigilance as the United States of America," he wrote in the Telegraph in March.
Outspoken Tory Brexiteer Jacob Rees-Mogg also took a swipe at the president in parliament's House magazine.
"I can't think the British people will want to be told what to do by a rather unsuccessful American president who has had one of the least successful foreign policies in modern history," he said.
In early March Conservative MP Steve Baker appeared to suggest Obama should look at American history before intervening in British politics.
"Whenever a US president intervenes in our constitutional future, I always reread the US Declaration of Independence," he told the Independent.
"We will solve peacefully at the ballot box the problem for which their nation fought a bloody war of insurrection," he added.
Peter Bone, another Conservative Brexiteer, told the paper Obama ought to "keep his comments, his views, to himself."
Disagreement over how a Brexit may impact upon national security has become a staple of the debate in the run up to the June 23 vote.
Former Blair-era spin doctor Alistair Campbell warned on Wednesday that Britain leaving the EU would suit those who might not have the UK's best interest at heart.
"[Russian President Vladimir] Putin probably. ISIS [Islamic State] definitely. And, depending what mood he is in, Donald Trump. That's about it on the international scene," Campbell told the Guardian.
You can share this story on social media: