Koh-i-Noor diamond was not stolen by Britain, it was a gift – New Delhi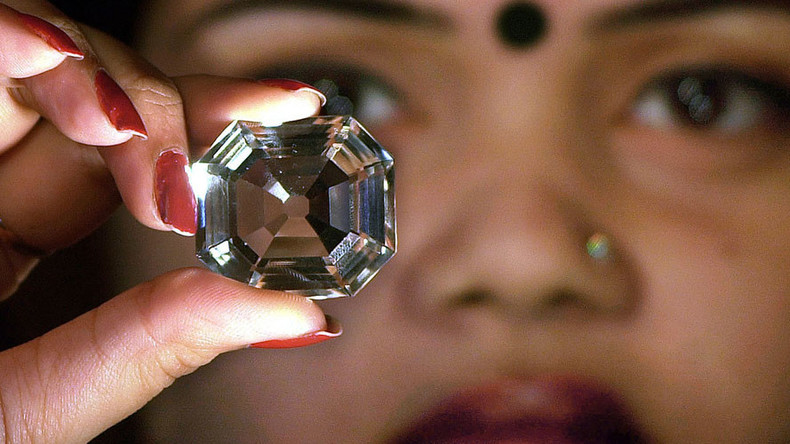 Britain's most famous crown jewel was a gift to Queen Victoria and was not stolen, the Indian government has told its supreme court, which is to rule on a lawsuit seeking the diamond's return.
A group of patriotic Indians say the legendary Koh-i-Noor – once the world's largest diamond – was stolen by Britain during India's colonization.
However, India's solicitor general, Ranjit Kumar, claims the stone was a gift to the 19th century British monarch and Empress of India.
Kumar told the supreme court on Monday: "It was given voluntarily by Ranjit Singh to the British as compensation for help in the Sikh wars. The Koh-i-Noor is not a stolen object."
David de Souza, co-founder of Indian leisure group Titos, is helping to fund the legal action that claims the diamond was stolen.
The campaign announced its lawsuit the week Indian Prime Minister Narendra Modi visited the UK last November, during which he met the Queen for lunch at Buckingham Palace.
"The Koh-i-Noor is one of the many artifacts taken from India under dubious circumstances," De Souza told the Sunday Telegraph last year.
"Colonization did not only rob our people of wealth, it destroyed the country's psyche itself. It brutalized society, traces of which linger on today in the form of mass poverty, lack of education and a host of other factors."
The 105-carat diamond, which in English is called 'Mountain of Light,' was acquired by the British when Punjab was annexed by the East India Company in 1849.
The last ruler of the Sikh Empire, then 13-year-old Dulip Singh, was brought to England to present it to Queen Victoria in 1850.
In one fictionalized account of its origins by author George MacDonald Fraser, notorious anti-hero Harry Flashman smuggled the Koh-i-Noor while on a mission in Punjab.
It was worn by the Queen Mother, Elizabeth Bowes-Lyons, at the coronation of her husband King George VI in 1937 and again by Queen Elizabeth II at her coronation in 1953.