Greenpeace activists scale Nelson's Column & other landmarks in air pollution protest (VIDEO)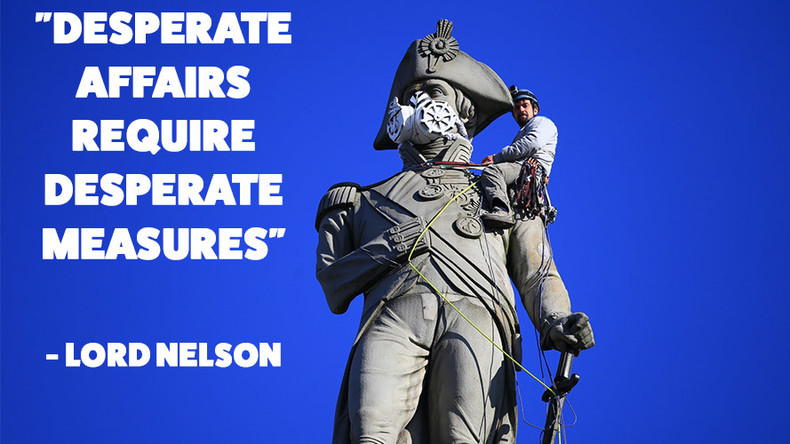 Two Greenpeace campaigners have climbed Nelson's Column in London's Trafalgar Square to fit the iconic 171ft statue with an "emergency face mask" as part of a series of protest actions against poor air quality.
Wearing helmets bearing the Greenpeace insignia, Alison Garrigan, 29, and Luke Jones, 30, began climbing the column early Monday morning.
The stunt was part of a number of similar protests sweeping London, with fellow activists attaching gas masks to statues across the capital, including those of Oliver Cromwell and Winston Churchill in Westminster.
A similar mask was also put on the Eros monument at Piccadilly Circus and the Queen Victoria statue opposite Buckingham Palace.
The Metropolitan Police confirmed that Garrigan and Jones were among the four activists arrested in connection with the protests.
The environmental group claimed responsibility for the actions on Twitter, saying campaigners targeted 17 statues in areas where air pollution is particularly "dangerous."
Greenpeace campaigner Areeba Hamid said: "Monitoring shows that if these statutes were real people, many of them would often be breathing dangerous, illegal air.
"That's why we've given them face masks. Of course many millions of Londoners, including kids, are breathing that same air.
"Kitting everyone out with face masks is not the solution, instead we need to see real political action from the new mayor.
"We need a Clean Air Zone covering a large part of the city. Whoever wins the [London mayoral] election has to stop the talk and start the action."
The group also highlighted a petition on their website calling on Prime Minister David Cameron to combat "toxic air" by regulating the car industry and pushing for an "electric vehicle revolution."