Monster hunters find 'Nessie' at bottom of Scottish loch (PHOTOS, VIDEO)
Published time: 13 Apr, 2016 15:28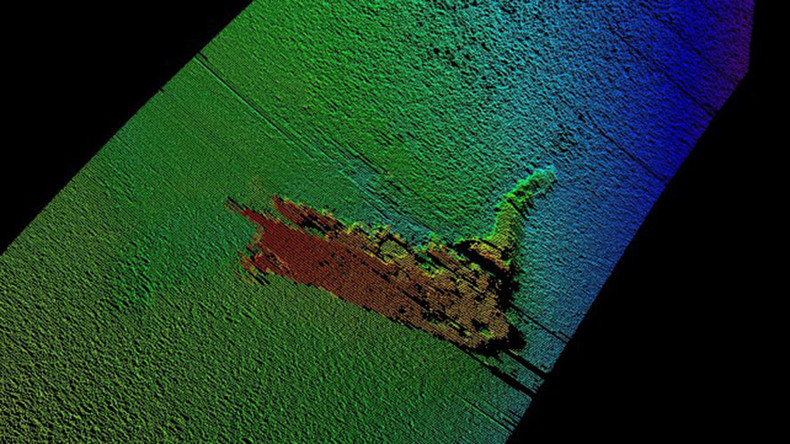 After years of searching, surveyors trying to get to the bottom of the Loch Ness mystery have made a surprising discovery - a decades-old movie prop of the fabled Scottish monster, Nessie.
An underwater drone mission to uncover hidden areas of the 230-meter (755ft) deep Scottish lake has failed to pinpoint the legendary lair of the prehistoric reptile which supposedly lurks in the freshwater lake.
Using sonar imaging, Norwegian technology firm Kongsberg Maritime has been sweeping the large lake using a marine robot. Suggestions of the existence of a 'Nessie trench' - a deeper part in the north of the loch where the monster would thrive - have been proved false.
But in the absence of a real beast, Operation Groundtruth has at least found a nine-meter (30ft) model Loch Ness monster used in the 1970 film, The Private Life of Sherlock Holmes.
READ MORE: Thames Monster? 'Nessie' speculation rife as mysterious creature spotted in London (VIDEO, POLL)
Starring Sir Robert Stephens and Sir Christopher Lee, the movie saw the fictional detective come up against the terrifying creature - which turned out to be a submarine.
Craig Wallace, a senior engineer at Kongsberg Maritime Ltd, said the unmanned drone search is providing new insights into what lies beneath, adding that "finding Nessie, was, of course, an unexpected bonus".
The Loch Ness Monster mystery is a lucrative myth for the area: according to tourism agency VisitScotland, the Nessie myth is worth around £60 million to the local economy.
The find is similar to a storyline in the cartoon series The Simpsons, when nuclear power plant owner Montgomery Burns drains the Scottish loch, only to find a model Nessie emblazoned with the words: 'Stomp Aberdeen'.