PM Cameron received £200,000 in gifts from mom, potentially avoiding inheritance tax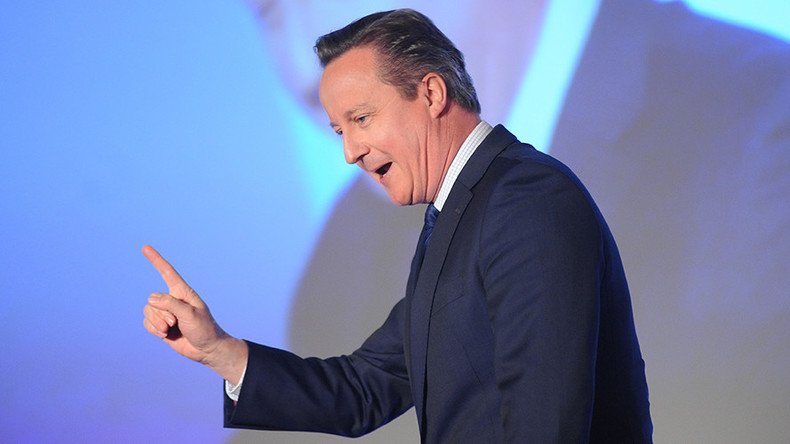 Pressured over links to his late father's offshore dealings, UK PM David Cameron has published statements on his personal finances. The disclosure reveals he received gifts totalling £200,000 from his mother, in what could be interpreted as an attempt to dodge inheritance tax.
Ian Cameron, the prime minister's late father, is among those mentioned in the so-called Panama Papers, the massive leak of financial documents currently under investigation.
Critics have accused the PM of profiting from his father's offshore dealings and failing to pay proper taxes. Facing growing criticism and street protests in front of his residence at 10 Downing Street, Cameron has now released statements in a move aimed at providing some transparency on the state of his finances.
But the disclosure has resulted in Cameron facing further questions over transactions which may be interpreted as an attempt to avoid paying tax – an accusation that undermines his credibility as Britain's top official.
In 2011, Cameron's 81-year-old mother, Mary, gave him £200,000 ($280,000) in two separate transfers, his published tax statements reveal.
Under British law, estates do not have to pay inheritance tax on assets the deceased gave away as gifts prior to death. The due tax becomes smaller the longer a person lives and is completely nullified in seven years. In the case of the money given to Cameron, the potential benefit would be £80,000 in dodged inheritance tax, according to the Guardian.
A spokesman for Cameron explained that "some years earlier" his parents transferred the family home in Berkshire, which is estimated to be worth more than £2.5 million, to his eldest brother, Alexander. The two payments made to the prime minister were meant to acknowledge that and were his share in the future inheritance, the spokesman said.
According to the four-page document released by Cameron's office, he paid £75,898 in income tax on a total income of £200,307 in 2014-15. Of that income the majority came from renting out his family house in Notting Hill, which generated £90,000 for the PM and his wife Samantha, with David Cameron's share amounting to £46,899. Just over £3,000 came in interest from considerable savings, estimated to be worth around £300,000.
READ MORE: Cameron comes clean on father's offshore trust, admits profiting from tax haven
Speaking in central London, Cameron admitted to mishandling the backlash from the Panama Papers.
"It has not been a great week. I know that I should have handled this better; I could have handled this better," he said. "I know there are lessons to learn and I will learn them. Don't blame No. 10 Downing Street or nameless advisers, blame me."
Cameron's slow response to the situation prompted a mass protest in London on Saturday, with thousands coming to the PM's residence at 10 Downing Street to demand his resignation.
You can share this story on social media: