Hug-a-Brit campaign: EU shows UK some love in hopes of avoiding Brexit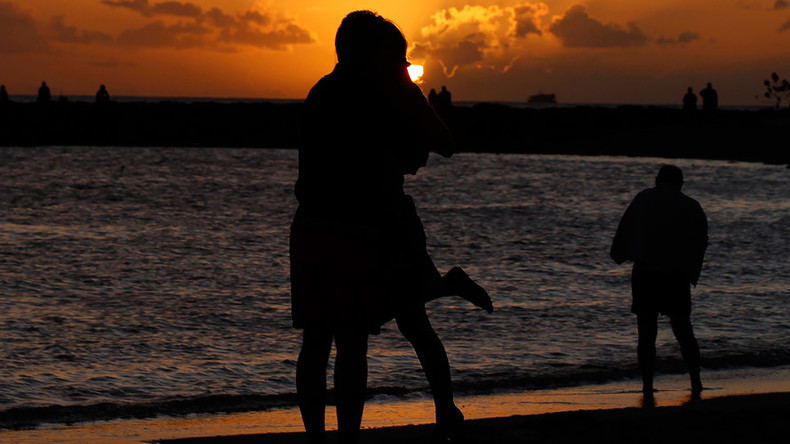 In a shift from the usual anti-Brexit scaremongering tactics warning Brits how bad it would be if they left the EU, some activists have decided to show the UK some neighborly love. Now you can go and legitimately 'hug your Brit' – at least, as long as the campaign lasts.
A group of Europeans living in London came up with the idea, which has been gaining popularity online amid the heated 'in-or-out' Brexit debate.
If you live in Europe and are worried what the EU might look like if Britain chooses to leave in the June 23 referendum, activists say there is something you can do to help.
The #PleaseDon'tGoUK and #Hugabrit groups are encouraging people to put aside politics and instead embrace unity and love.
The hashtags already appear to have achieved results online, with photos, new friends and smiles all being shared.
"We like the Brits and we love the UK and we want it to stay in because we think it's better if we're together. We think an emotional, nice campaign might be helpful. We're more about being interpersonal," Paul Varga, one of the founders of the group, told Sputnik.
"In the end, this question affects real people. It affects where you buy your groceries, it affects British employees in European companies, it affects university students. I think it's really nice because it gets people to the front," Varga added.
People from across Europe are seeking out Brits to contribute to the campaign, including from France, Italy, Germany, Spain and Sweden.
READ MORE: Demystifying Brexit: The 'ins & outs' of the EU referendum
Stars have even got involved: a picture posted online showed British singer Jarvis Cocker receiving a "PleaseDon'tGoUK" hug.
The UK is holding the referendum on its membership in the EU on June 23. All British citizens who have lived in the UK at some point during the last 15 years are allowed to vote.
Britain has seen a rise of Euroskeptics amid slowing growth and concerns over the refugee and migrant crisis in Europe.
The tactics employed by both sides have not always been nearly as sweet as the hug-a-Brit campaign, though.
UK Prime Minister David Cameron has recently been accused of planning to spend £9 million (about US$12.7 million) on pro-EU 'propaganda' leaflets – an idea that did not go down well with some British taxpayers.
A pro-Brexit 'Leave.EU' campaign ad that made the leaflet allegation also featured Cameron in the guise of North Korean dictator Kim Jong-un, alongside Tony Blair and other pro-Europe politicians.
Pro-Brexit supporters believe that the British people have long been waiting for a proper hearing on EU membership, and that the referendum should be held "without taxpayer-funded biased interceptions by the government."
READ MORE: 'Brexit' deal: EU may have signed its own death warrant
Meanwhile, Cameron has been speaking out against leaving the EU, not stopping at mere emotional appeals. Last week, he went as far as comparing Brexit to "self-harm."
Cameron also warned that jobs, prices and living standards would suffer a "massive knock-on effect," while the EU's vengeance would be so strong it could even ban British airlines from flying internal European routes such as Rome to Paris.
The EU vote looks set to come down to the wire, with the most recent ORB poll for the Telegraph revealing only a 1 percent gap between Brits who want to stay in the EU and those who want to leave. The survey found that 49 percent supported staying 'In' while 48 percent wanted 'Out.'