'Close tax loopholes or resign!' Anti-Cameron protests gather momentum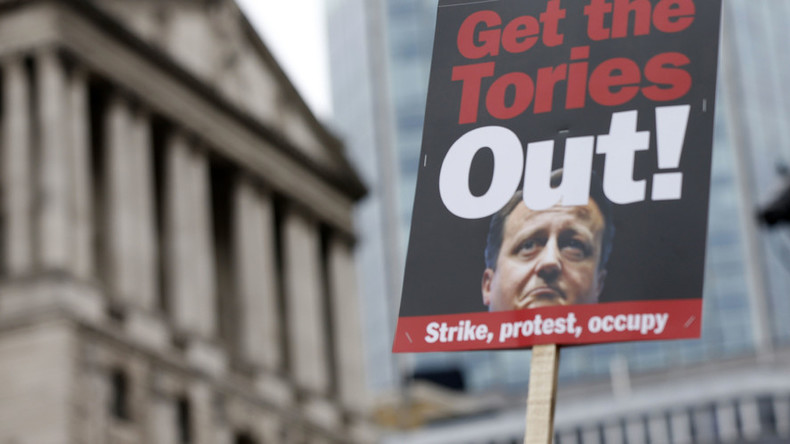 With echoes of the movement that toppled Icelandic Prime Minister Sigmundur David Gunnlaugsson, UK PM David Cameron must make tax avoidance impossible under British law or resign from office, activists are demanding.
A protest outside 10 Downing Street is scheduled for Saturday, along with a spate of smaller regional demonstrations across the country.
This comes after Cameron admitted on Thursday night to having held shares in his late-father's offshore investment fund, Blairmore Holdings, which avoided paying tax in the UK. He claims to have sold them for about £30,000 (US$42,000) before taking office in 2010.
Organizers say the Panama Papers leak has exposed the PM's hypocritical attitude to tax avoidance: promising to clamp down on offenders while simultaneously benefiting from their existence.
Speaking to RT, Abi Wilkinson, who organised the London protest, said the revelations had cast doubt over whether Cameron is fit to reform the tax system.
"Though Cameron's personal tax affairs expose his hypocrisy, the thing that made me feel I had to organize something was the FT [Financial Times] revelation about Cameron personally intervening to block an EU crackdown on tax avoidance," she said.
"Now he's admitted he profited from Blairmore it makes me further doubt whether he can be trusted to fix a system that is fundamentally broken. Britain is the hub of the tax avoidance world.
"Something needs to change, and we need to at least try to make that happen."
Cameron has insisted he is "relaxed" about the idea of publishing his tax returns and has promised to do so, despite protestations on Monday that his family's finances are a "private matter."
He told ITV he does not own any shares, offshore trusts or offshore funds, and has "nothing to hide."
Many of the companies implicated in the Panama Papers are based in former British colonies in the Caribbean.
The protest on Saturday aims to mock this theme.
"Because so many UK companies are based in Panama, the British Virgin Islands and other tropical tax haven hotspots we want to make them feel at home. So let's dress for the occasion!" the Facebook event reads.
"Hawaiian shirts, tropical colors, sunglasses and (of course) Panama hats. If you've got a blow up beach ball then bring that along.
"Why should Tories get to have all the offshore fun?"
You can share this story on social media: