'Feminist zealots!' Ex-colonel says British Army will pay 'blood price' for letting women fight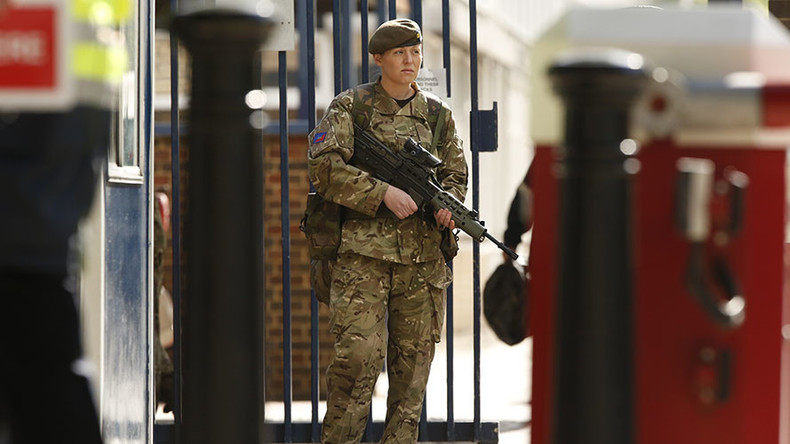 Letting women into combat roles is a "social engineering project" by "feminist zealots" who would never sign up themselves, and the price will be paid in blood, a former British Army colonel claims.
Colonel Richard Kemp, a right-wing commentator who once called the Israeli Defense Force (IDF) the "most moral army in the world," attacked the initiative to let women into the infantry in a Telegraph comment piece on Wednesday.
First he rounded on those who support the scheme, accusing them of "feminist zealotry," while hinting that they themselves were too cowardly to fight.
"The people who have demanded this change – politicians desperate to be seen as 'progressive,' feminist zealots and ideologues hell-bent on equality of opportunity without exception – would never dream of volunteering," he raged.
On the whole, women are simply not strong enough to carry out an infantry role due to the high physical demands of combat, he said.
Kemp argued many British soldiers would resign because "every infantryman knows that the price for this social engineering experiment will be paid in blood."
He said the combat role and its demands are unique, having barely changed in the last 100 years.
Kemp, who once commanded British troops in Afghanistan, called the move "foolish" and said it would "reduce the capability of the infantry, undermine our national defenses and put lives in danger."
He said "equal opportunities" is not cause enough to justify the change in policy.
Elsewhere it has been argued that opening up roles in the fighting 'teeth arms' of the military is less down to feminist zealotry and more about military cuts, operational drawdown and a recruitment crisis.
"In an army that is much less busy, that adrenaline buzz and sense of adventure is going to go down," former Brigadier Ben Barry told the Financial Times last year, as the government announced cuts to the military budget, leaving the force 3,000 troops short of its intended post-austerity strength.
"Recruiting has struggled as a result and with the public image being one of a shrinking army, potential recruits are even less interested," he said.
When RT approached the Ministry of Defence (MoD) for comment in March 2016, it claimed recruitment failures were non-existent.
"The Services must maximize the available talent and some of this talent is female," the MoD said. "There must be true equality of opportunity which in turn will make the Services more attractive as a career."
You can share this story on social media: