Drone chic? Think tank blasts trendy myth of killer robots' precision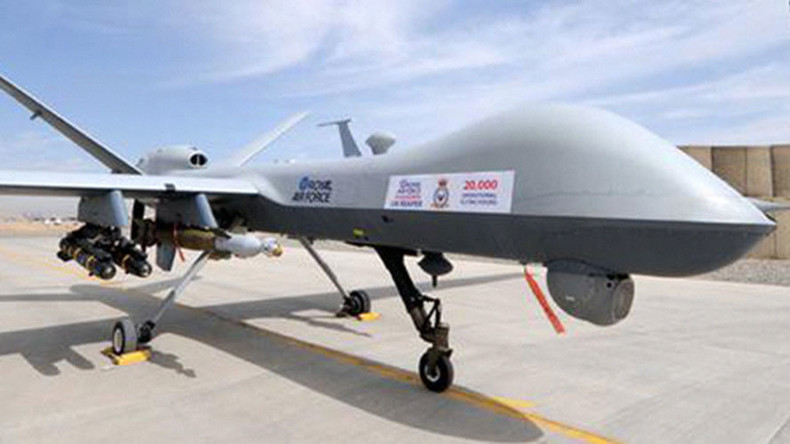 The myth of the effectiveness and flawless precision of drone technology in modern warfare that has so enamored British military strategists is plain wrong, a security think tank argues.
The Oxford Research Group's new report, 'Drone Chic,' argues the tendency to see unmanned aerial vehicles (UAVs) as a vastly-superior alternative to traditional military operations is precarious at best.
In reality, the report argues, their much vaunted precision is mythical, and drones themselves are a tactic not a strategy.
The study also claims critical accounts of drone warfare from former operators are not taken into account, and that people who live in areas where the aircraft operate are denied a voice.
The language used in relation to remote warfare – such as "collateral damage" and "disposition matrix" – has sanitized drone use, leading to the myth of military "progress" and a "mythology of precision," the authors believe.
The report also suggests the politics of drone warfare have been reduced to a form of moralism. In the absence of coherent political aims it can falsely appear that "somehow drones are delivering what could not be accomplished through conventional war and the deployment of militaries – that is a defeat of the enemy."
Drones are increasingly seen by world leaders as strategic weapons capable of delivering overall victory and not as the tactical tools they really are, it argues.
"Drones can indeed kill people in increasing numbers but do little to address the underlying causes of conflict or the attraction of the terrorist cause," the study claims.
In March it was revealed the British military aims to take battlefield decision making to a new level of automation.
The process is already in development whereby vast amounts of complex battlefield information is loaded into a computer program, which prioritizes threats.
The reason for the move into independently-thinking systems, according to a top Ministry of Defence (MoD) official, is a shortage of manpower.
"In a time when military manpower is limited [the] manual processing of data is too time consuming," Jim Pennycook, head of the MoD Centre for Defence Enterprise (CDE), told the Register tech website at the time.
"The use of autonomous systems and processes to make sense of data to support decision making could increase efficiency and reduce the risk and cost of operations," the former Royal Air Force (RAF) wing commander added.