Kamikaze mission? SAS train to fight ISIS in crash-prone 'transformer' aircraft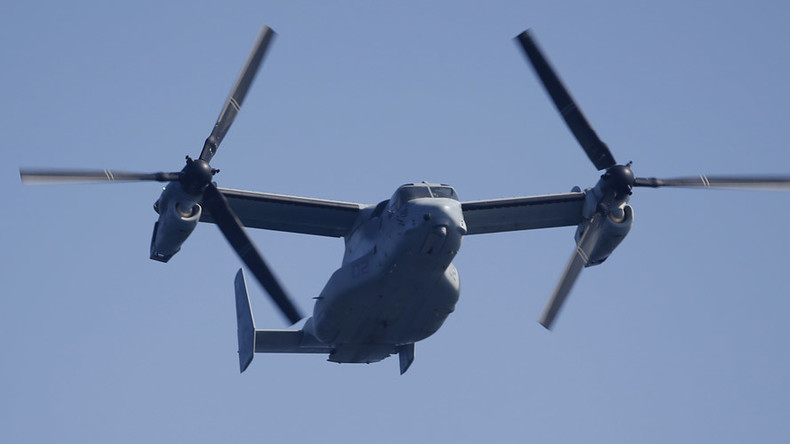 British Special Forces are training aboard a heavily-armed Osprey heliplane to rapidly respond to terror attacks on UK soil – despite the US-made aircraft's history of fatal crashes.
The unusual-looking Osprey V22 aircraft – which is effectively half plane, half helicopter – is being used by the SAS at a training site near Hereford, according to sources quoted by the Daily Mail.
British pilots are training to fly the Osprey, touted as being capable of delivering 24 Special Forces soldier from Hereford to London within thirty minutes in the event of a terror attack.
An SAS counter-terror unit is already situated in the capital, but the aircraft could deliver backup at short notice.
Said to be faster than any vehicle currently in the Special Forces' aircraft fleet, the Osprey travels at up to 360mph (580kph), armed with machine guns at the front and rear.
An SAS source told the Daily Mail on Saturday that Osprey is "an essential new piece of equipment," which could allow the military to better respond to an attack.
"With its vertical take-off and landing capability we could fly directly from Hereford and land in any city, even in a confined space."
The Osprey is not without its detractors, however.
Since 1991 there have been 36 deaths linked to Ospreys effectively falling out of the sky.
Its pioneering tilting rotors may allow vertical take-off and landing (VTOL), and short take-off and landing (STOL), but they also come with unique problems.
It has also been criticized for being badly affected by tail-winds and for the power of its rotors making winching dangerous.
One aviator blasted the military in 2014 for attributing matters of flawed design to pilot error amid claims the aircraft was rushed into service for political reasons.
"In their hurry to get this thing painted in a positive light for Congress, some things are coming back to haunt them," Don Harvel, a now retired US military pilot who carried out an internal investigation into the Osprey, told the Medium website.
"We need to invest money to fix this thing or change the way we're operating it," he said.
"One of the things that is most noticeable to me is the military trying to get the [Air Force] CV- and [Marine] MV-22 to the forefront to get as much positive publicity as possible," Harvel added.