Kids with guns: 1,500 children arrested for suspected firearms offences
Published time: 29 Mar, 2016 12:25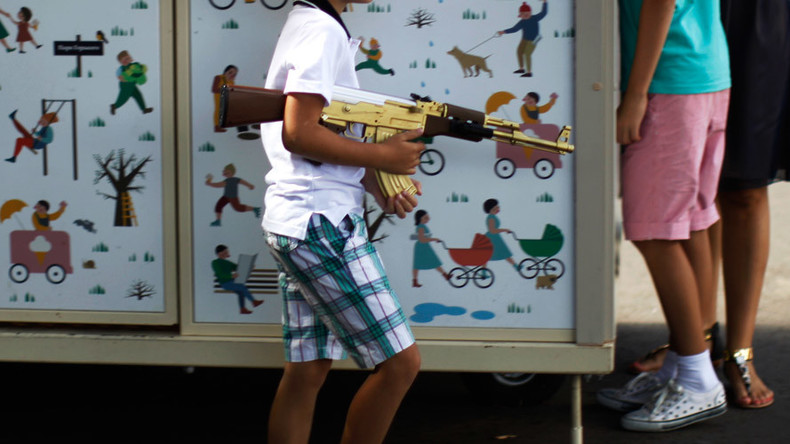 British police forces arrested 1,549 children, some as young as 10, for suspected firearms offences between 2013 and 2016. Figures suggest a 20 percent rise in the last year alone.
The statistics include weapons such as air rifles, BB guns, imitation firearms and Tasers.
The data was obtained through Freedom of Information (FoI) requests sent by the Press Association to all police forces in the UK, with 29 responding.
Of the 679 children arrested between 2013 and January 2016 by London's Metropolitan Police, 30 were under 13 years of age.
A counsellor and trustee of the charity Mothers Against Violence, Ian Cameron Swanston, lost his 20-year-old brother in a shooting in Manchester in 1999. He said gangs use children to hide weapons.
"The more guns within the community, the more likely it is we will see younger children getting access to them. Gangs use children, they use their girlfriends. They use people who the police are unlikely to search.
"For some it's about status. Having a gun is seen as having power and people become fearful of you.
"The impact of their choices is far greater than can be imagined. It is so much easier to destroy a life," he added.
West Midlands Police, responsible for Birmingham, Britain's second-largest city, said it had charged 83 boys and one girl with firearm offences since 2013.
Merseyside Police, responsible for Liverpool, said 73 children were arrested for suspected firearm offences between 2013 and 2015.
Police in Northern Ireland said nine boys and one girl were arrested for suspected firearm offences in 2015.
North Wales Police arrested 14 boys, West Yorkshire Police arrested 138 children and Nottinghamshire Police arrested 60 young people under the age of 18.
Greater Manchester Police and Police Scotland were among the forces that failed to provide figures.
"Firearms offences in the UK still account for less than 0.2 percent of total recorded crime. These offences reflect a broad range of crimes, which can include air weapons or even possession of a BB gun if used in criminal circumstances," a spokesman for the National Police Chiefs' Council said.
"Forces across the country and community safety partnerships are working together to prevent young people getting involved in gangs and firearms. This is a key piece of work for all agencies and communities in breaking the cycle of young people becoming involved in gangs and the associated criminality."