Secret list of MPs 'hostile' to Corbyn leaked
Published time: 23 Mar, 2016 13:58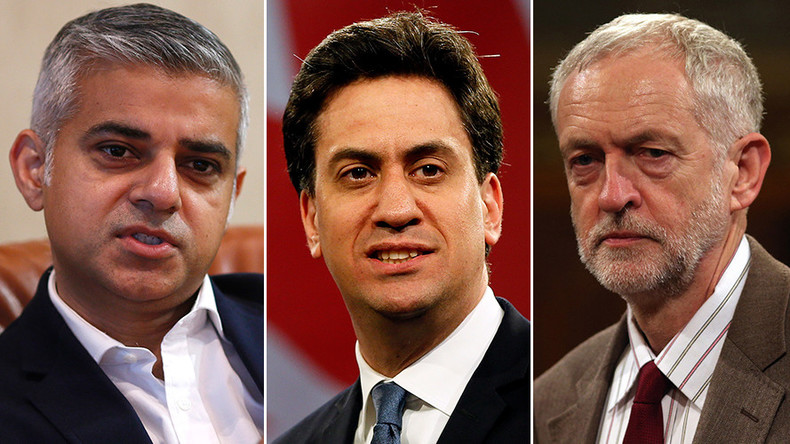 Fault lines within the Labour Party were laid bare Wednesday with the leak of a document which appears to brand several prominent MPs, including London mayoral candidate Sadiq Khan, as "hostile" to the party's left-wing leader Jeremy Corbyn.
The Times, widely considered a pro-establishment newspaper, claims the list was drawn up by Corbyn's political secretary Katy Clark in January. It divides Labour shadow Cabinet members into five groups: "core group," "core group plus," "neutral but not hostile," "core group negative" and "hostile group."
I'm one of the 17 Labour MPs not on 'the list'. Can't work out whether that means a first class ticket to Havana or the train to Siberia...

— Conor McGinn MP (@ConorMcGinn) March 23, 2016
The spreadsheet's supposed purpose was to rank Labour MPs in order of loyalty to Corbyn. However, a spokesperson for the Labour leader has denied that the list came from Corbyn's office.
"It doesn't come from this office and we have no knowledge of it," he said.
The "core group" detailed on the spreadsheet consisted of just 19 MPs deemed to be closest to Corbyn, while 56 MPs were listed under the Labour leader's outer circle: "core group plus."
Shadow Cabinet members such as shadow mental health minister Luciana Berger and chief whip Rosie Winterton were listed among the "hostile" group, along with former deputy leader Harriet Harman.
The second most hostile category, dubbed "core group negative," included Hilary Benn, the shadow foreign secretary who railed against Corbyn in backing the government's Syria air strikes, and Maria Eagle, Britain's pro-Trident former shadow defense secretary, now reshuffled to culture.
Fair to assume that whoever leaked the list to undermine Corbyn is now slagging him off for getting hammered with the list at #PMQs?

— Jon Stone (@joncstone) March 23, 2016
Seventeen MPs are not mentioned on the document at all.
An anonymous Labour MP told The Times: "I think every single Labour MP will be surprised to find themselves profiled in this way.
"At a time when every focus should be on crafting a message to win support in the country so that we can displace an unpopular government with a wafer-thin majority, it is absolutely extraordinary to find that an 'enemies' list is being drawn up."
"The last politician to draw up a list of enemies was Richard Nixon; it didn't end well for him or his party."
The leak comes as the Labour Party grapples with accusations of failing to adequately address a spate of claims of anti-Semitism among party members.
Sadiq is the biggest winner from that list. One supporter told me recently negativity to Corbyn biggest problem on doorstep and....

— Josh Lowe (@JeyyLowe) March 23, 2016
Monday, after Labour peer Lord Levy threatened to quit the party unless Corbyn made it clear that anti-Semitism would not be tolerated, Corbyn told Sky News, "The idea that somehow or other there is a tolerance of any form of racism is wholly and totally fallacious."
"Lord Levy clearly hasn't been listening to the seven times since I became leader I've absolutely condemned anti-Semitism, I've condemned Islamophobia, I've condemned any form of racism anywhere in our society."
On Wednesday it emerged that a Labour councilor and former Big Brother contestant, Beinazir Lashrie, who was suspended from her post pending investigation into her support for anti-Semitic conspiracy theories, has been reinstated as a councillor for Notting Dale.
Last week, former parliamentary candidate Vicki Kirby was suspended for a second time over anti-Semitic tweets.
Since he took over Labour leadership last September, Corbyn has struggled to reign in an unruly party, promoting a longwinded Shadow Cabinet reshuffle in January that saw a handful of Corbyn's detractors demoted or sacked.