Blame game? Tory civil war deepens over disability cuts, Brexit split
Published time: 21 Mar, 2016 13:44
Edited time: 21 Mar, 2016 17:23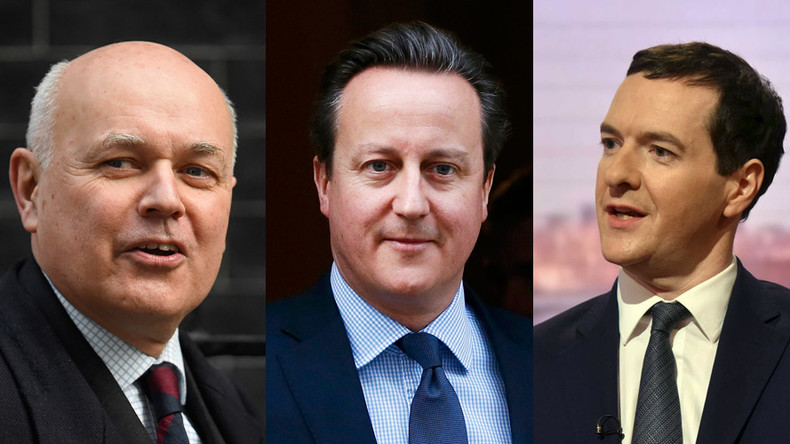 Prime Minister David Cameron has been forced to defend his status as a "compassionate Conservative" as his party teeters on the brink of civil war over contentious cuts to disability benefits and the upcoming EU referendum.
Pundits are calling this the worst case of Tory infighting in more than two decades.
In an appeal to MPs on Monday afternoon, Cameron struck back against claims his government's latest Budget is "deeply unfair" to the working poor and argued he leads a "modern, compassionate, One Nation Conservative government."
The PM reportedly blames his own Tory Chancellor George Osborne for the row over disability welfare cuts which erupted last week with the sudden resignation of Work and Pensions Secretary Iain Duncan Smith.
Duncan Smith stood down on Friday after accusing the government of protecting wealthy Tory-voting pensioners while cutting benefits for poor and disabled people.
Cameron addressed MPs in the Common in a bid to shore up his authority. His government was forced into a U-turn on disability welfare cuts, opening a fresh challenge to Osborne's austerity policies.
The PM sought to rebuild confidence in his leadership of a party also deeply divided over the upcoming referendum on Britain's membership of the EU.
While Cameron's statement focused on the EU summit addressing the migration crisis, he also attempted to show party unity by heaping praise on Duncan Smith and Osborne.
The PM lavished compliments on Osborne in particular, saying none of this government's achievements would have been possible were it not for the "work of the Chancellor in turning the economy around."
In private, Cameron is said to blame Osborne for the row over disability cuts. A cabinet source is quoted in the Times as saying: "Cameron said in no uncertain terms that Osborne had messed up, it was all his fault and would have hell to pay in the papers."
A senior Downing Street staffer also reportedly disputed the claim, telling the Times it did not represent Cameron's view.
"The prime minister does not believe the chancellor was responsible for what happened," the source said. "They are working as closely as they ever have done."
Labour Party leader Jeremy Corbyn reiterated his call for Osborne to resign for introducing a Budget that "doesn't add up."
Corbyn said the chancellor should scrap cuts to corporation tax and capital gains tax in order to fill the £4 billion (US$5.75 billion) gap left as a result of scrapping planned cuts to welfare payments for disabled people – known as the Personal Independence Payment (PIP).
"Far from just Iain Duncan Smith resigning, if a chancellor puts forward a Budget – as he did – knowing full well that he is making this huge hit on the disabled, then really it should perhaps be him who should be considering his position," Corbyn told the BBC.
"His Budget simply doesn't add up and it unraveled within hours of him presenting it. This isn't the first time a George Osborne Budget has unraveled.
"It seems to me we need to look at the very heart of this government, at its incompetence, at the way it puts forward proposals that simply don't add up and expects the most needy in our society to take the hit for them."
Speaking anonymously, one minister told the Sunday Times Cameron would welcome a leadership challenge.
"He [Cameron] wants to fix the problem. He wants to get rid of the t***s who have caused all the problems. There will be a reckoning," the minister said.
Roughly 50 MPs would be required to demand a vote of confidence in Cameron.
A senior Tory backbencher told the Sunday Times it was inevitable.
"The way this is going a leadership contest is inevitable and George has zero chance of winning it. I know of 30 people who would put in a letter before breakfast on June 24," the anonymous MP said.