US Sen John McCain, joins 'project fear,' warns Brexit will bolster Moscow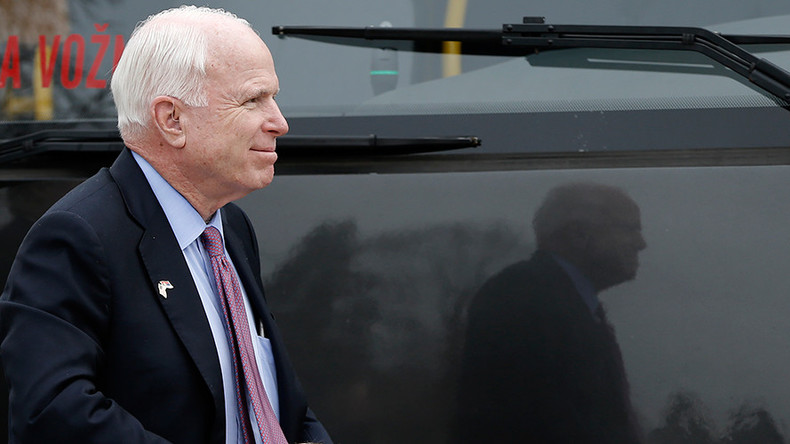 Senator John McCain is the latest US critic to wade into the Brexit debate, warning that a British exit from the EU would leave Europe, America and the wider world at the mercy of Russian President Vladimir Putin.
The former Republican presidential candidate made his comments while meeting the House of Commons Defense Select Committee in Washington DC on Friday.
Regular Russia critic McCain, who is chair of the Senate Armed Services Committee, said on his official government website that a "strong and united" Europe is needed more than ever.
"The United States has long benefitted from British leadership in NATO and the EU – for instance, leading sanctions against Russia, providing vital support to Afghanistan and Ukraine, and grappling with the refugee crisis fueled by Vladimir Putin," McCain claimed.
He said a comprehensive approach was needed to face the most "diverse and complex" security issues the allies had faced since World War II.
"Having a strong British voice in NATO and the EU helps ensure we make the most of the collective power of these institutions."
Whatever the referendum's outcome, "it will send a strong message to Vladimir Putin," he added.
McCain, a former US Navy pilot and Vietnam-era prisoner of war, is one of Moscow's biggest critics in Washington.
In 2016 alone he has already accused the Pentagon of benefiting "Putin's friends" by buying Russian rocket engines used for putting satellites into orbit. He also claimed the US alone will decide if and when EU sanctions against Russia can be relaxed.
He was also a vocal opponent of the recent Russian bombing campaign in Syria. During the air campaign he accused Putin of "treating the United States with disdain and contempt" and of "inserting himself into the Middle East in a way that Russia has not been since Anwar Sadat threw them out in 1973."
You can share this story on social media: