Send warships to Libya, break migrant trafficking 'business model' – Cameron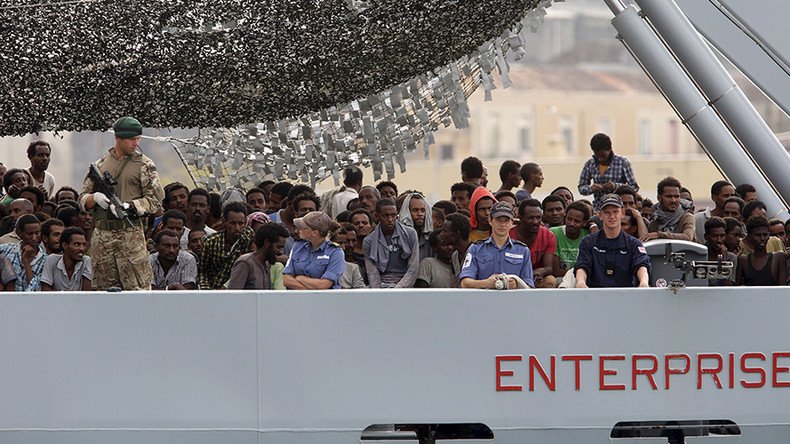 Warships are needed to disrupt people smugglers and stem the flow of migrants and refugees crossing the Mediterranean, British Prime Minister David Cameron has told a summit of EU leaders.
Cameron told leaders on Thursday at a Brussels summit on the refugee crisis that the Royal Navy survey vessel HMS Enterprise would have her deployment extended.
"What matters today is actually busting the business model of those people-smugglers and therefore breaking the link between getting on a boat and getting settlement in Europe," Cameron said.
Also discussed were migrant routes through Turkey and Greece, which Cameron is keen to see closed.
"If we can get an agreement that returns the migrants from the Greek islands to Turkey, that would be good progress."
Cameron and the 27 EU leaders who attended the summit are working on a deal which would grant special provisions for Turkey if it helped to restrict migration.
The new measures would see migrants who failed fast-track asylum tests in Greece sent back to Turkey.
In return Turkey would have its current $3 billion aid package doubled and its citizens would gain visa-free access to the EU's Schengen open-border zone.
The initiative has not been well received by some NGOs, with the Refugee Council's Chief Executive Maurice Wren telling the Press Association it appeared "immoral, unworkable and probably illegal."
"The fact that the government is boasting of its intention not to lift a finger to help more refugees find safety in the UK is emblematic of its lack of moral leadership and political courage to do the right thing," Wren added.
Amnesty International's Refugee Director Steve Symonds warned that the plan "lacks both logic and compassion. By abandoning their legal obligations, European leaders won't put a stop to refugee migration."
You can share this story on social media: