German comedians mock Brexit, call Queen 'ancient horse faced grandma' (VIDEO)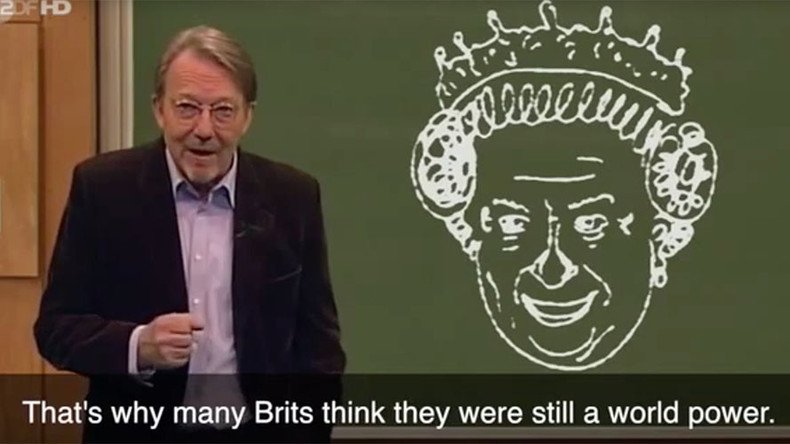 European unity took a bit of a blow this week, after a video sketch of German comedians mocking the British and supporters of Brexit has gone viral.
Presenter Oliver Welke of German channel ZDF's Heute show kicks the sketch off with an attack on Britain's "special treatment" in the European Union.
He then suggests 'Brexit,' sounds like a brand of cat food from discount supermarket LIDL.
"For real. Let them do it," Welke jokes.
After that the gloves are off. An explanation of how Britain once ruled the world leads to Queen Elizabeth II being described as an "ancient grandma from the dynasty of the horse faced."
Britain's stance on the EU has provided rich pickings for the Heute Show.
Last May, the UK was described as the "Planet of the Island Apes" after Prime Minister David Cameron said he thought it was right for the UK to "cherry pick the best things from the EU."
With tongue in cheek, Welke listed all the special treatment Britain receives.
"They pay less fees, are allowed to have real money instead of euros, one extra sausage [special treatment] after another."
The show then cuts to a group of actors, representing Britain, France and Germany, playing a board game dubbed "the great 'take the mickey out of Europe' game."
"Every time Europe annoys you, you just choose an extra sausage [special treatment]. The other idiots pay and you are the only one who takes. How great is that!"
The video has provoked anger in the YouTube comments section from some people who didn't see the funny side.
"You know what I think the EU is? I think it's Germany's third invasion… they failed with might and aggression so now try it with politics," one user wrote.
"The sooner Britain leaves the failed experiment the sooner other nations will see it for what it is… the fourth Reich."
You can share this story on social media: