Egypt's Sisi tells West 'stay out of Libya' amid talk of UK military intervention
Published time: 17 Mar, 2016 15:10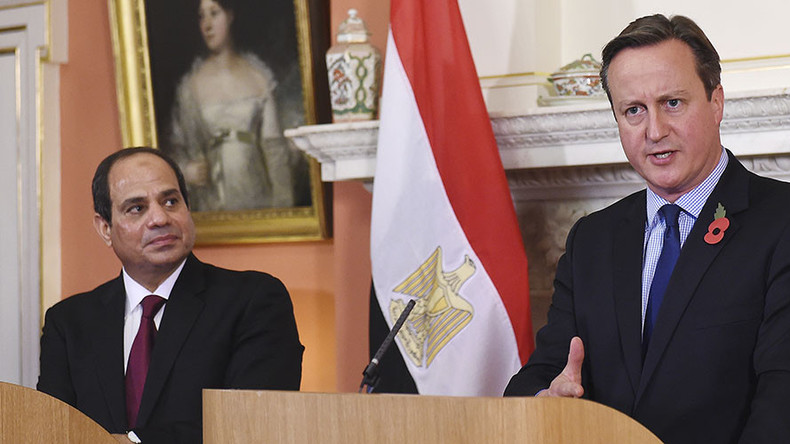 British Prime Minister David Cameron will tell an EU summit on Thursday he's ready and willing to intervene militarily in support of Libya's emerging unity government, even as Egypt's President Abdel Fattah el-Sisi warns the West to 'stay out'.
Cameron is also expected to warn EU leaders that a new wave of Libyan migrants will flood into Europe this summer.
The deployment of British military forces in support of Libya's Government of National Accord (GNA) would be available on request.
On Wednesday, the Foreign Office was forced to deny that troops and air power would be deployed without the approval of parliament.
Following a recent tour of North Africa, Crispin Blunt MP, chair of the Foreign Affairs Committee, wrote to Foreign Secretary Philip Hammond requesting clarification on what exactly the government was planning.
North African leaders have also warned the West not to intervene militarily.
In an interview with Italy's La Repubblica newspaper, the Egyptian president said Western governments are underestimating the risks involved in intervention.
Sisi said the West should focus on supporting Libya's army and internationally recognized government from a distance.
He urged the West to draw lessons from the past.
"Two lessons must be kept in mind: that of Afghanistan and that of Somalia. Those were long foreign interventions [that started] more than 30 years ago and what progress has been made since? The results are there for everyone to see," Sisi said.
Sisi also warned against underestimating the complexity of the situation on the ground.
"Europeans look at Libya as if IS [Islamic State] was the only threat," he said. "That is a serious mistake."
While many "different acronyms" are used by African jihadist groups, they subscribe to the "same ideology."
"What do we say about Al-Qaeda networks like Ansar al-Islam, like Somalia's Shebab or Boko Haram in Africa?" he added.