#Budget2016: Osborne's Generation Y package 'unfair to core'
Published time: 16 Mar, 2016 18:22
Edited time: 17 Mar, 2016 12:03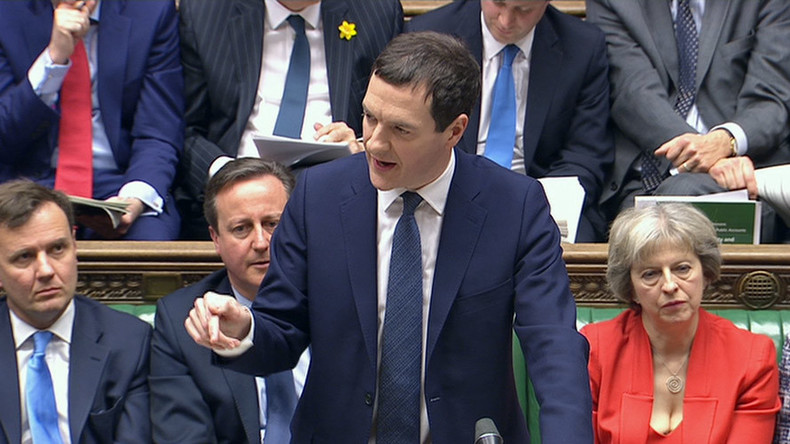 The full scale of financial hardship facing millennials was unveiled on Wednesday as Tory Chancellor George Osborne delivered his eighth budget, promising to "put the next generation first."
Osborne's speech contained the phrase "next generation" some 18 times, critics noted, yet the word "pensioner" popped up just once.
Central to Osborne's 2016 package is a new Lifetime ISA policy open to anyone aged 18-40, with the aim of getting Generation Y to save more. In a time of austerity, zero contract hours, soaring rents and rocketing house prices, supporters insist it will help address wealth inequality in Britain.
From April 2017, the under 40s will be able to put up to £4,000 every 12 months into the new ISA. Any cash added before a saver's 50th birthday will get an extra 25 percent from the government at the end of each tax year.
There are catches though. You can only spend the money to help buy a house, or keep it locked away until you're old enough to claim your pension. Critics say essentially it only helps anyone who already has enough money to save, or doesn't need their cash for a few decades.
Labour leader Jeremy Corbyn said the Chancellor has delivered a medley of failures over the last six years.
"It's a recovery built on sand and a Budget of failure He's failed on the Budget deficit, failed on debt, failed on investment, failed on productivity, failed on trade deficit, failed on the welfare cap, failed to tackle inequality in this country," he said.
Corbyn went on to accuse Osborne of year-upon-year of skewed forecasts.
"Business investment revised down, government investment revised down. It's a very good thing the Chancellor is blaming the last government – he was the Chancellor in the last government."
Corbyn said the budget has "unfairness at its very core" because it is being paid for by those who can afford it least.
Chief Executive of the Children's Society Matthew Reed said the Chancellor has failed to deliver for struggling families.
"If the Government wants to put the next generation first it must confront child poverty head-on. Instead it is pressing ahead with a four-year benefits freeze that will hit 7.5 million children," he said.
"The Chancellor's claim that child poverty has fallen ignores that half a million more children live in absolute poverty compared with 2010, and the numbers in the most severe poverty are also rising. Without immediate action independent forecasts indicate that hundreds of thousands more will join them."
Reed said teens and youngsters will continue to face financial struggle until the Government is prepared to put forward the financial resources required to address the challenges they face.