'Juvenile' MPs who shout & jeer in Parliament should be punished – petition
Published time: 16 Mar, 2016 15:38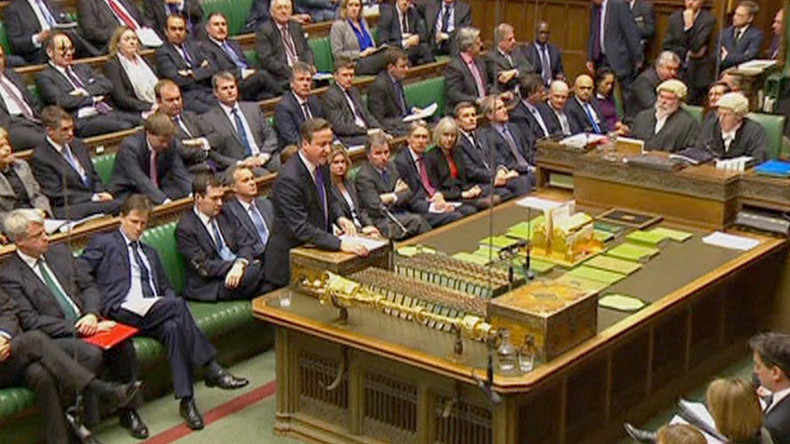 MPs who jeer and shout during parliamentary debates should be penalized for their 'juvenile' behavior, a new petition states.
Launched by Mark James Thomas Wild, MPs must debate the petition in parliament if it hits 100,000 signatures by August 11.
Wild believes the famously raucous Commons debates should be free of "shouting or jeering by anyone whilst an MP is speaking."
He laments "unsatisfactory behavior" by elected representatives and demands "there be a penalty imposed by way of expulsion."
Wild says he finds it "very off putting when members of the house shout and jeer over the top of someone attempting to speak and put their point forward."
Anybody found acting in a "juvenile and unprofessional" way should be "ejected from the house immediately," Wild believes.
The House of Commons is notorious for its fractious debate. The election of Jeremy Corbyn as Labour Party leader has led to even more intense rounds of jeering from Tory MPs during his interventions.
Recently Tory MP Michael Fabricant shouted the word 'bollocks' during a debate on the EU.
He later apologized to the Speaker of the House Jon Bercow "for inadvertently perhaps, or through frustration, using an eight-letter word beginning with b and ending with cks."
Fabricant reportedly said: "[It happened] when a colleague of mine was raising yet another scare story about what a disaster it would be if we were to leave the European Union. It was unseemly."
Bercow himself routinely lambast MPs for interrupting from a seated position on the Commons benches. It is phenomenon he commonly refers to as "sedentary chuntering."