'Women are dying': Sisters Uncut blockades Treasury to protest domestic abuse service cuts
Published time: 14 Mar, 2016 17:45
Edited time: 15 Mar, 2016 00:16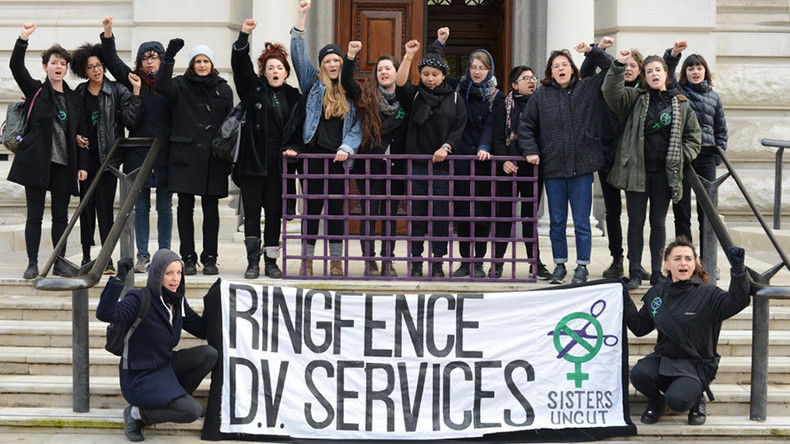 Feminist campaigners blockaded the entrance to Britain's Treasury on Monday over what they described as "sexist" and "racist" cuts to vital funding for domestic violence services.
The protest was organized by feminist direct action group Sisters Uncut, which has been campaigning against austerity since 2014.
Sixteen campaigners arrived at the Horse Guards Road entrance of the Treasury at 9.15am on Monday morning, demanding the government reverse its decision to implement the funding cuts.
They then dropped a black and white banner calling on the Conservative Party to "ring-fence domestic violence services" as advisers and officials attempted to enter the building.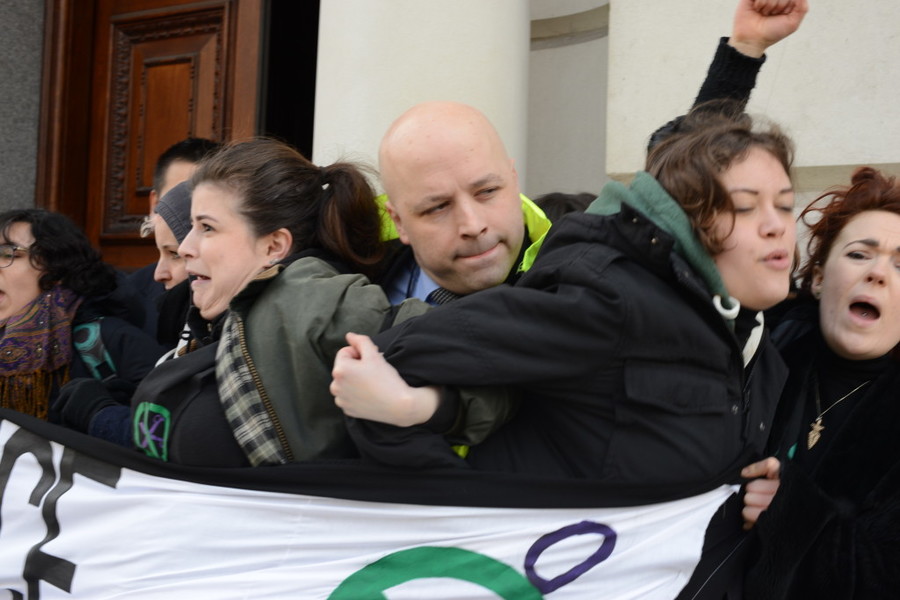 Speaking ahead of the protest, Sisters Uncut said it was compelled to take action because the ability of domestic abuse survivors across the UK to flee oppression now depends on their postcode.
"Specialist domestic violence services are funded by local councils, whose budgets have been halved by Osborne," a spokesperson for the campaign said.
"Vital services and the women they support face a precarious future, and already areas of the country are returning to a time before refuges existed."
Sisters Uncut describes itself as a diverse group of women and "non-binary people" taking direct action against the government cuts to domestic violence services. It warns refuge houses are disappearing, meaning one in three women in Britain who seek help are turned away.
"Domestic violence services across the UK have lost over 30 percent of their funding since 2010, and their future is uncertain," the campaign said.
"Some services that currently remain open, such as the specialist LGBT [lesbian, gay, bisexual and transgender] service Broken Rainbow, have no guarantee that they will still be running in a year's time."
Tara Adams, a domestic violence support worker who took part in the demonstration, said insecure funding puts women in jeopardy.
"George Osborne has used his budgets to create a 'permanent pothole fund', but domestic violence services are still being forced to struggle with short-term, shallow pots of cash," she said.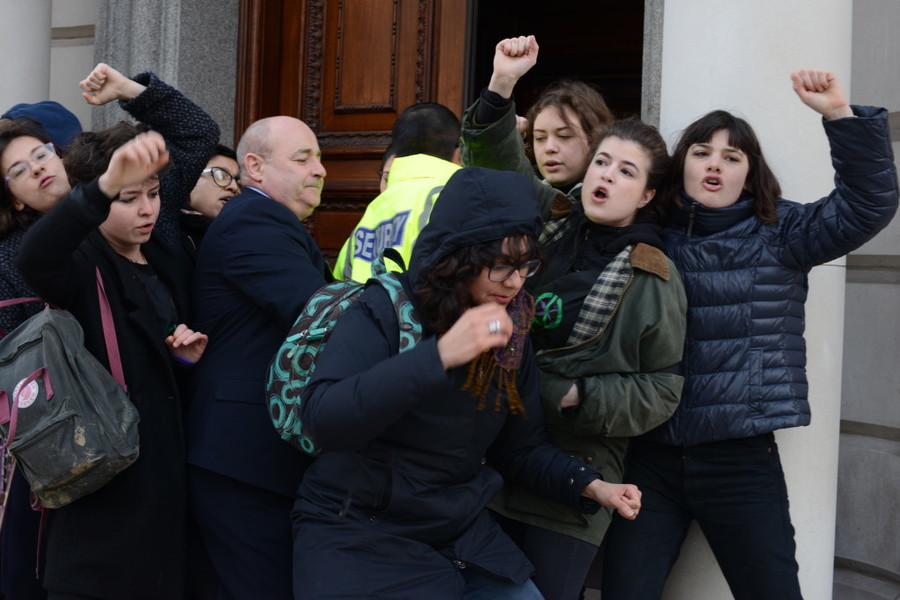 RT asked the Home Office what is being done to ensure survivors of domestic abuse are given the public assistance they need.
"The Government is serious about stopping violence against women and girls and has made it a priority. No one should live in fear of these crimes," the UK's Minister for Preventing Abuse, Exploitation and Crime Karen Bradley said.
"That is why we have nearly doubled funding to £80 million for the next four years. We are determined to stop women and girls from becoming victims in the first place, which means funding specialist services, which will provide support and intervene as early as possible to stop the cycle of abuse."
"Through our strategy we are making preventing violence against women and girls everyone's business. It is vital Government, the police, local authorities and service providers work together to help women get out of dangerous situations early, and stop perpetrators from moving from one victim to the next."