Snoopers' Charter: 'Substantial changes' needed for Labour support
Published time: 14 Mar, 2016 15:05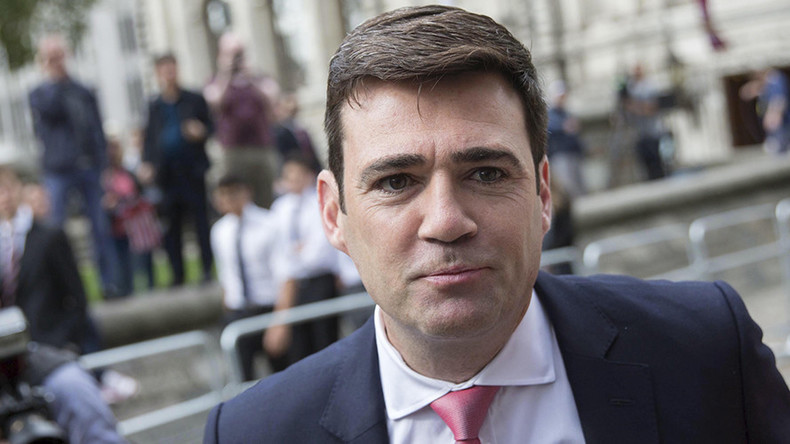 Britain's Labour Party will delay the passage of the government's Investigatory Powers Bill until the controversial legislation is amended to offer greater privacy protections, Shadow Home Secretary Andy Burnham has said.
Though initially supportive of the legislation's aims when the bill was introduced last fall, Labour MPs will abstain from voting after the second reading of the bill on Tuesday, Burnham told the Times.
Burnham said that the government must make "substantial changes" to the legislation before Labour votes for it. He said that the party wants to work constructively with the conservatives to improve the bill.
If passed, the bill, dubbed the Snoopers' Charter by its critics, would legitimize and codify mass data collection, requiring internet companies to retain records of users' web histories for a year. The bill also requires telecommunications agencies to hand over information on their users to security agencies.
Speaking to the Times, Burnham said: "We believe the bill must start with a presumption of privacy, as recommended by the Intelligence and Security Committee, include a clearer definition of the information that can be held and set a higher threshold to justify access. There also needs to be higher protection for journalists and their sources.
"Britain needs a new legal framework in this crucial area that is fit for the digital age, balancing powers with proper safeguards. So Labour will put party politics aside and work constructively with the government to that end.
"On the left of politics, there are deeply-held concerns that, in our country's past, investigatory powers have been misused against trade unionists and ordinary people campaigning for justice. This is why the government will have to work hard to earn our support."
According to new draft documents published ahead of the bill's second reading, the legislation would mandate that large tech companies install "back-door" access to their products for police and security services. The move comes in the wake of a recent dispute between the FBI and Apple, which was ordered by a court to bypass encryption on an iPhone belonging to one of the killers involved in the San Bernardino massacre.
Three separate parliamentary committees who looked at the first draft of the legislation issued criticisms of the bill and recommended changes. The Intelligence and Security Committee, which is tasked with overseeing the country's spy agencies, concluded the Conservative government's proposed anti-terror legislation offers a "piecemeal approach" to privacy protections and provides security agencies with too much unchecked power to conduct mass surveillance.
According to a survey on data privacy issues, the vast majority of Britons have little understanding of what the bill will achieve, with just 12 percent saying that they believe that the home secretary has "adequately explained the impact of the Investigatory Powers Bill to the UK public and presented a balanced argument for its introduction."
The survey, conducted by Open-Xchange, found that just one in five people believe the introduction of the bill is justified.