Yarl's Wood detainees display banner alleging sexual assault by guards
Published time: 14 Mar, 2016 12:29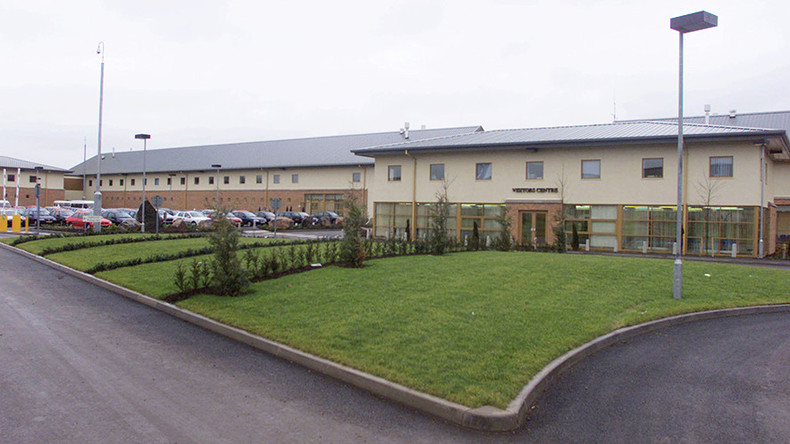 Detainees at the Yarl's Wood immigration removal facility hung a banner from one of the windows alleging sexual misconduct by the staff. The action came as thousands of protesters gathered outside the center demanding its closure.
The message, which appears to have been written on a towel or a bed sheet, was one of many makeshift banners shared by detainees with protesters. The banner read: "Yarl's Wood officers in relationships with vulnerable detainees."
Some 2,000 people marched on the controversial Bedfordshire detention center on Saturday in a protest organized by the Movement for Justice.
The action was the largest protest against the center to date.
The Yarl's Wood Immigration Removal Center holds primarily female asylum seekers whose claims have been rejected for indefinite periods of time before deporting them from the UK.
It is the largest of the UK's 14 detention facilities for women. Campaign groups have repeatedly called for an end to indefinite detention in Britain, the only EU member state that can detain people without limit.
Since the center opened in 2001, a number of complaints about sexual abuse and mistreatment have been lodged by detainees against Serco, the private outsourcing firm responsible for operating Yarl's Wood.
Hundreds of allegations of rape inappropriate touching, harassment and humiliation were published last summer by the campaign groups Women Against Rape and Black Women's Rape Action Project.
In 2014, UN special rapporteur on violence against woman Rashida Manjoo was blocked by the Home Office from inspecting conditions at Yarl's Wood during an official visit to the UK.
"The devastating sign we saw being hung from the windows by the women inside saying 'officers in relationships with vulnerable women' confirms what we already knew – Yarl's Wood is the embodiment of racist, sexist state violence against women," a member of feminist direct action group Sisters Uncut, Janelle Brown, told the Independent.
"Immigration detention replicates the torturous, coercive powers of domestic violence- male guards that control and abuse women trapped at Yarl's Wood are no different to the perpetrators of domestic violence who abuse women trapped in their own homes. No woman should ever have to face such invasive brutality. Yarl's Wood should be shut down."