Dogs of war: RAF Tornado jet damaged in collision with feral pooch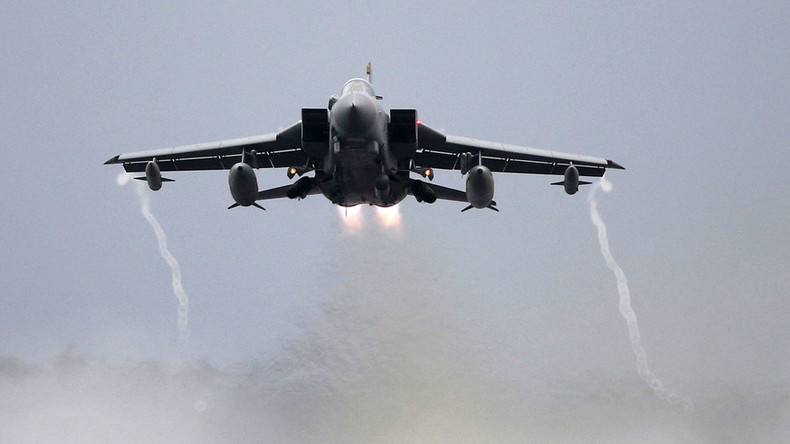 An RAF Tornado jet carrying out raids against Islamic State targets in Syria was damaged after it collided with a stray dog while landing at a British airbase on Cyprus.
The 14 ton jet needed "hundreds of thousands" of pounds worth of repairs, a source told the Sun, and was taken out of action.
The plane was approaching the coastal base at around 200mph when a stray dog ran across the airstrip. Due to the high velocity of the craft and proximity to the ground, the pilot could not abort his landing and came down directly on top of the dog.
Both pilot and navigator managed to escape unscathed. The same couldn't be said for the unfortunate canine.
The pilot kept control of the plane as it landed on the stray, but witnesses said the incident could have been far worse as the jet was loaded with Brimstone and Paveway missiles following a night mission.
"The crew were in danger to the point they considered ejecting on the runway," a source told the paper.
"Packs of strays roam the base for food. Everyone is s******* themselves about a major incident," the source added.

The incident took place on Tuesday at RAF Akrotiri, in the south of Cyprus, from where the British carry out their aerial bombing raids on Islamic State (IS, formerly ISIS/ISIL) in Syria.
Airbase security concerns have already been raised, as the fence surrounding its perimeter is broken in places.
The plane is reportedly back in action.
"An RAF Tornado GR4 hit a feral dog. The aircraft has returned to service," an RAF spokesperson confirmed in a statement.
After an initial surge in strikes, which targeted IS oilfields in eastern Syria, there have been few reports of RAF success in the region. The bulk of Britain's activity continues to take place in Iraq.
Britain's much-vaunted Brimstone missiles have yet to be fired in Syria. Prime Minister David Cameron had claimed the RAF would make a "meaningful difference" in the country.
Ninety percent of airstrikes against IS in Syria by the Western coalition are carried out by the US.