50% of Brits would refuse to help crying elderly lady on street – YouGov poll
Published time: 9 Mar, 2016 18:13
Edited time: 9 Mar, 2016 20:51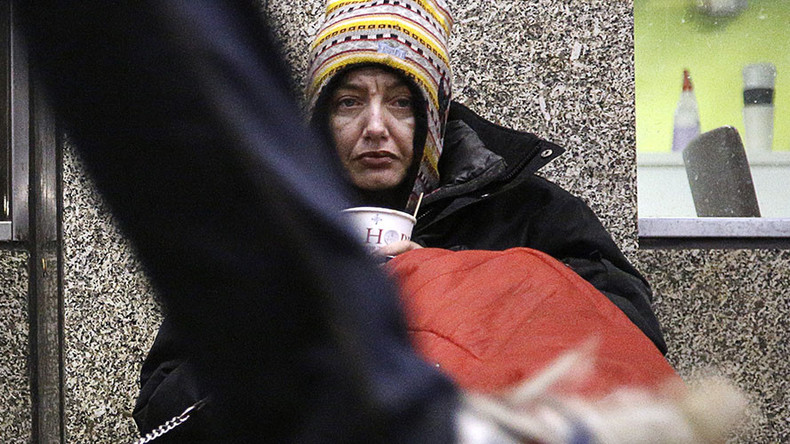 Brits are losing their humanity, according to a new survey, which found that almost fifty percent of UK citizens would not stop to assist an elderly lady crying on the street.
The poll paints an unfavorable image of a country gripped by individualism. Commissioned by the Bible Society, it documents the views of 2,052 respondents from across the UK. The group commissioned the research to promote the ancient parable of the Good Samaritan.
One in five people surveyed said they could remember a time when they required help but no one stopped to offer assistance.
Almost 67 percent said they believed Britain is becoming a less kind society. Fifty-five percent of the respondents claimed they would approach an elderly woman crying in the street, but only 37 percent said they would allow an elderly man to make an urgent call on their mobile phone.
Asked why they would refuse to help, 38 percent claimed they would be fearful of trusting a stranger, while 9 percent said they would be too embarrassed to make such an intervention.
People appeared more willing to offer time than money to strangers in need. Some 25 percent of those polled said they would refuse to give cash to a stranger who claimed to need help buying a train ticket home. Meanwhile, a mere 20 percent said they would confront a group of youngsters who were harassing a homeless man.
On a more uplifting note, 25 percent said they had helped a random stranger in the past week.
A culture of individualism focused on the belief that personal needs trump those of society has become apparent in Britain since WWII.
Against a backdrop of an increasingly individualistic society, some observers suggest the country needs a greater sense of collectivism and unity. They argue morals have become non-existent for many, with the selfish interests of the individual outweighing those of the group. Proponents of individualism contest this view, however, arguing that human solitude fosters self-reliance, initiative, and enterprise.